Pat Jones has lived in Hawick for 47 years but she was born in New Orleans, raised in Rayville in northern Louisiana until age five, and then moved to Covington. Her mother, Pearl Hankins, and a sister still lived in the Covington area, which is across Lake Ponchartrain from New Orleans.

Her 83-year-old mom, her sister, and her sister's mother-in-law tried to evacuate from Covington on Friday, Aug. 26, but could not leave due to the bumper-to-bumper traffic. They left Covington on Saturday, Aug. 27, and drove to Pat's brother's house in Shreveport.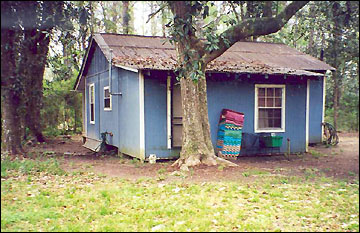 Louisiana gets lots of hurricane warnings, said Pat, who was thankful that her family was able to evacuate. "This time, they figured they'd better get out," she said.
Family members of Pearl Hankins of Covington, La., are planning a benefit this weekend to rebuild her home, shown before Hurricane Katrina.
They went back to Covington on Wednesday, Aug. 31. "They got through," explained Pat, "but they saw the damage and destruction and went to Mobile (Ala.) to some friends' house."
Her mother's house had a magnolia tree on the roof, another through the bedroom window on the bed, and trees surrounding the driveway. Her brother said three rooms in their mom's house, out of five, are okay.
There was no flood damage in Covington, just damage from the hurricane. Her sister's house fared better, said Pat.
Pat's mother is now at a sister's house in Atlanta while her other sister is back in Covington; "They figured the electricity should be back on this week," said Pat.
Salvage operations are slow, said Pat, who said she is tempted to head south with her chainsaw. They are afraid to go on the roof of her mom's house for fear it might collapse. Similarly, if they move the tree, the house still might collapse.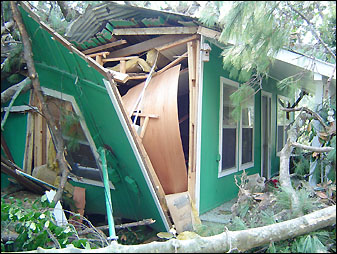 Pat said she is thankful that her family evacuated from Covington, but heartbroken about the human tragedy and damage to her native state. "I have no desire to go back to New Orleans because it's gone," she said. "It's devastating to see something so beautiful destroyed," she added.
Pat has a friend in Bay St. Louis, Miss., but she has not heard from her at all: "I don't know where she's at, if she's dead or alive or what."
Pearl Hankins, the 83-year-old mother of Pat Jones of Hawick, saw her home in Covington. La., destroyed by Hurricane Katrina. Hankins and relatives evacuated before the storm hit Louisiana.
She wonders why school or city buses weren't used to evacuate the population of New Orleans. "As you can see, it was the blacks who were left," she said.
Her mom is physically fine but mentally she wants to go home, said Pat, noting that her mother has lived in Covington for over 50 years. "The sooner that she gets home, the sooner I can get down there," said Pat.
Pat's daughter and Pearl's granddaughter Paula Tebben is organizing a garage and bake sale benefit for Pearl Hankins, to rebuild her house, on Saturday, Sept. 17, at Rice Home Medical in Willmar from 7 a.m. to 1 p.m.
---
Contact the author at editor@paynesvillepress.com • Return to News Menu
Home | Marketplace | Community
---