Eight years ago, the Minnesota Department of Natural Resources established special fishing regulations on Long Lake, near Hawick. Since 1997, these special regulations set a 12-inch maximum size for largemouth bass on Long Lake, prohibiting anglers from keeping any bass 12 inches or larger. Largemouth bass exceeding 12 inches must immediately be released.

The intent of these special regulations was to increase the number of big largemouth bass in the lake, and the DNR was mandated to review these regulations this year.

On Tuesday, Sept. 20, the DNR will hold an open house, from 5:30-8 p.m., at New London City Hall to get public opinion about these regulations and comments on whether they should be kept, modified, or scrapped.

The idea behind special regulations, which were established on a number of lakes, was to produce more quality (i.e. big fish), explained Bruce Gilbertson, manager of the Spicer Area Fisheries Office. "The thinking was the quality of fishing was not what it used to be," said Gilbertson. "Anglers were not catching as many big fish."

While lots of factors - including environment, weather, etc. - influence fish populations, one factor that is relatively easy to change is fishing regulations, said Gilbertson. The maximum size for largemouth bass on Long Lake was chosen as a special regulation so as to encourage the growth of larger fish, while still using fishing as a population check. As the smaller bass still can be harvested, the overall abundance should remain fairly steady, with the average size increasing.

"Now the question is: Is it working well enough so people will say, 'Yes, we'd like to keep it,' or not," said Gilbertson.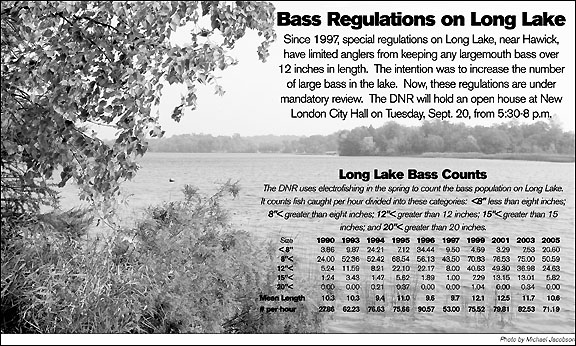 According to the DNR data, which it collects on largemouth bass by electrofishing in the spring, the regulations appear to have produced larger bass in Long Lake, though the trend was strongest in the 1999, 2001, and 2003 counts and fell off slightly in 2005.
Looking at the estimated mean size of largemouth bass caught on Long Lake, this average increased from 9.6 inches in 1996 to 12.1 inches by 1999, then to 12.5 inches in 2001, fell slightly to 11.7 inches in 2003, and then dropped a bit more to 10.6 inches in 2005. This average size, though, is still greater than most years of monitoring prior to the special regulations.
The DNR also looks at the number of fish caught per hour of at least a given size. Counting just the bass at least 12 inches in size, the number in the electrofishing counts has gone from 22.17 in 1996, to 8.00 in 1997, to 40.63 in 1999, to 49.30 in 2001, to 36.98 in 2003, and to 24.63 in 2005.
The data from 1999, 2001, and 2003 strongly suggests that the special regulations did help increase the average size of largemouth bass on Long Lake, said Gilbertson. This year's data shows a decline, but whether that is just a natural cycle or a real drop can't be known yet. (Ideally, Gilbertson would want 50 years of data about fish populations in a lake in order to track the natural cycles.)
Also according to the DNR data, the average bluegill size on Long Lake has increased, and Gilbertson believes this may be a side benefit of the special regulations for bass.
He believes there's a "reasonable link" between the bass regulations and the bluegill population. Having larger bass, as well as more yellow bullheads, are likely thinning the crop of young bluegills. "So the one's that are left have a little more food and grow better," increasing their average size, said Gilbertson.
The pounds of bluegills per trap net on Long Lake is: 1990, 45 pounds; 1994, 93 pounds; 1997, 26 pounds; 1999, 30 pounds; 2001, 16 pounds, 2003, 4 pounds; and 2005, 54 pounds. So the 2005 population is not above the average for the last decade.
But the pounds of preferred bluegills (at least eight inches in size) per trap net on Long Lake is: 1990, 0 pounds; 1994, 2 pounds; 1997, 1 pound; 1999, 0 pounds; 2001, 3 pounds; 2003, 2 pounds; and 2005, 18 pounds.
Typically, there's an inverse relationship between the number of bluegills and the average size. Meaning, as the population increases, the size usually declines; or if the population decreases, the size usually increases. In 2005, though, the bluegills in Long Lake bucked that trend. They not only were populous, reaching the highest levels since 1994, but their average size also increased. "We have never monitored a population (of bluegills) on Long Lake with more eight-inchers in size," said Gilbertson.
Options are to keep the 12-inch maximum for bass, adjust the special regulations, such as allowing one trophy fish (over 20 inches), or scrap them and go back to the statewide regulations.
The open house is meant to be an opportunity for anglers and residents to visit with DNR officials, ask questions, get data, and give their input. People should feel free to come and go to the open house, staying as long or short as they like, added Gilbertson.
People can also make written comments to the DNR within ten days of the open house. Send written comments to: Bruce Gilbertson, Spicer Area Fisheries Office; P.O. Box 457; Spicer, MN 56288.
Since the regulations seem to be having at least some desirable impacts, Gilbertson would like to at most modify the current special regulations. The ultimate decision, he said, will be made by the DNR commissioner this winter. Whatever is decided will go into effect next spring, on March 1, 2006.
The DNR will continue to monitor the fish populations in Long Lake, which is 286 acres in size, though not as frequently as it has during this study period. They try to sample each lake every three to five years, said Gilbertson, while they have been monitoring Long Lake first every year and lately every two years during this study period.
The regulations for Long Lake could change again in the future, but the DNR does not like to continually make year-to-year changes, since it's confusing for anglers, Gilbertson said. The hope is to decide on regulations that could be a long-lasting solution for Long Lake.
---
Contact the author at editor@paynesvillepress.com • Return to News Menu
Home | Marketplace | Community
---