Sgt. Drew Deadrick, a 1999 PAHS graduate, was injured by a roadside bomb while serving in Iraq on Wednesday, Aug. 23, but he has already returned to active duty, reported his mother Sandy Deadrick of Paynesville.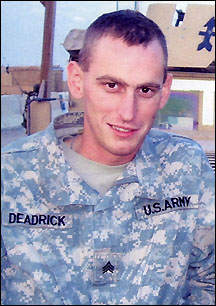 Drew, a member of the Minnesota National Guard, is serving his second tour of duty in Iraq. His assignment involves riding in the lead Humvee in convoys, according to his mother.
He suffered burns and is stiff and sore from being thrown around the Humvee, said Sandy last week. She has e-mailed Drew, talked with him by phone, and visited with him via webcam (on Wednesday, Sept. 6) since he suffered his injuries.
"He said after the bomb went off, it felt like his right arm had been torn off," said Sandy. "He looked to see if it was still there." Which it was.
Drew, who has served in the Minnesota National Guard for eight years, first went to Iraq in February 2004 for a year tour. He returned to Iraq last spring with a National Guard deployment of 2,800 Minnesotans, also including Dan Lillquist of Paynesville and Nic Stalboerger of Lake Henry.
Drew came home for a two-week leave in July, said Sandy, and is hoping to return from his deployment in Iraq next April.
Until then, said Sandy, they need to keep praying for his safety. She also thanked everyone for the support offered the family so far.
His mailing address is: Sgt. Drew Deadrick, E Company, 2/136 CAB, Unit #60000, APO AE 09331-0000.
---
Contact the author at editor@paynesvillepress.com • Return to News Menu
Home | Marketplace | Community
---