St. Martin's first cafe opens
This article submitted by Linda Stelling on 9/13/00.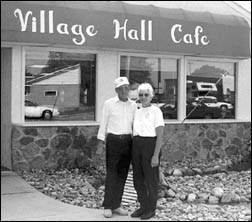 The Village Hall Cafe (the outside with Bud and Jean Terres) opened for business on Friday, Sept. 1, in St. Martin. Its opening is a dream come true for Bud Terres, 66, St. Martin. "I have always wanted to see a cafe in town," he said. Terres believes the cafe is a first for the small community.

The cafe is located in the former fire hall, which is connected to the old village hall. Right now, the cafe just occupies the fire hall, but Terres has plans for the other space. The cafe features a stainless steel kitchen and seating for 80 people. It is open 6:30 a.m. to 10 p.m. daily.

The city hall was erected in 1958. In 1964, a fire hall was added to the north side of the building when the community's first fire truck was purchased.

Terres has wanted to open a cafe in St. Martin for several years, but there wasn't a downtown site available. When the St. Martin Fire Department was looking to expand its facility five years ago, Terres volunteered to swap land with them. He owned land on the west side of town. "I felt their downtown location was a good spot for a cafe," Terres said. The city took Terres up on his offer. Terres rented the building to Mondloch Hardware as a store while their new building was being constructed, then rented it as a welding shop for a year.

Terres started remodeling the building on the first of March. Terres and his wife, Jean, and several friends cleaned and painted the fire hall.

The front of the building has a split rock facing. Terres and his son, Gary, split the rocks, which came from their farm. Terres also designed a small waterfall and stream on the front lawn of the lot using rocks.

With 27 years in the construction business, Terres loves remodeling and improving things. "I didn't need a blueprint. I knew what I wanted," he said. He installed a handicapped bathroom, a kitchen, a serving counter, nine booths, and 17 tables. "Our first weekend open was a busy one," Jean said.

In the future, Terres plans to remodel the city hall side of the building into a recreation room with pool tables and pinball machines for the children in town.
---