Nordland Lutheran has new intern pastor
This article submitted by Michael Jacobson on 9/13/00.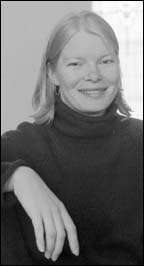 Tina Scheidt grew up as a pastor's kid in a family with a number of pastors. Now, she's a few steps away from becoming a pastor herself.

Scheidt will be learning the hands-on duties of a pastor at Nordland Lutheran Church. Scheidt started a year-long internship at the rural Paynesville church on the first of September.

For Scheidt, who grew up in Dayton, Ohio, the journey to become an Lutheran pastor was not a direct one.

Her father is a pastor in the Missouri Synod, and continued to minister part-time even after he took a civil service job with the Air Force in Dayton. Her grandfather was a pastor, as are several of her uncles.

When Scheidt went to undergraduate school at Valparaiso University in Valparaiso, Ind., she majored in German and spent a year studying abroad at Tčbingen, Germany.

After graduating, she spent a year working in Chicago for the Lutheran Volunteer Corps. Her job at the nonprofit community development agency was to research industrial recycling, specifically the feasibility of scrap tire recycling.

Her concern for the environment, she said, started with the love of the outdoors that her parents instilled in her, as well as their emphasis on reuse and minimizing waste.

After completing her year of service, Scheidt lived in Chicago for another four years. During this time, she worked at a community recycling center and at a bike repair shop. During her time at the bike shop, which she really enjoyed, she started applying to divinity schools.

Scheidt chose the Vanderbilt Divinity School over Harvard. She knew she wanted to be an Evangelical Lutheran Churches of America (ELCA) pastor, but wanted to get a broader base on religion. "I figured this was an opportunity to get some exposure to other denominations," she explained.

For her Master of Divinity thesis, Scheidt wrote an environmental handbook for ELCA churches. Using Lutheran theology, the handbook explained why recycling is important, what churches can do, and how the ELCA can help. "By doing the project, I was able to tie the environmental interests that I had before with the theological training I got," she explained.

After completing her Master of Divinity, Scheidt needed to attend a Lutheran seminary for a year to take additional courses in Lutheran church history, worship, and theology. She did that at the Lutheran School of Theology in Chicago.

This internship will be the last school requirement for Scheidt. After this she will be seeking a call to a parish and to become an ordained pastor. She plans on looking for a parish in Wisconsin, where her fiancee has his first parish.

At Nordland, Scheidt will preaching, teaching classes to students and adults, assisting in leading worship, attending church committee meetings, and visiting church members at home. She will be working with Pastor Keith Ainsley.

In addition to getting experience in ministering and leading a church, Scheidt hopes to learn about herself as a pastor, what her strengths and weaknesses, likes and dislikes, are. "Overall, I'll be trying to get a better sense of my pastoral role," she said.

Scheidt wasn't always sure that she wanted to be a parish pastor, either. She came to the realization that she wanted to minister to people's spiritual need while doing monotonous office work in Nashville, Tenn., to put herself through graduate school. "I realized for my soul to be fed I needed something deeper," she explained, "to work with people's relationships with God."

Living in Hawick will be the first rural experience for Scheidt. She likes to bike, hike, cook, camp, and watch movies. She also wants to try gardening and horseback riding, and wants to learn how to can food.
---