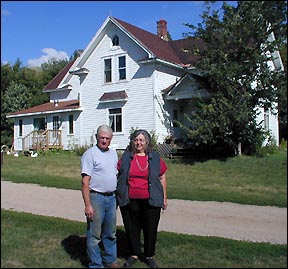 The Frederick Heitke homestead recently received recognition as a Century Farm from the Stearns County History Museum. Mike and Evangeline (Heitke) Elmhorst have lived on the farm since 1988.

Frederick Heitke purchased more than 300 acres in Zion Township for $4,250 in 1897. The family took horse and wagons from Wisconsin, according to oral family history remembered by Evangeline Elmhorst and Pearl Heitke, her aunt.

His son, Gustav, and Clara Heitke purchased the farm in 1904 for $2,000. They lived in a log house, which was located south of the current house.

The present house was built in 1913. When the Elmhorsts were remodeling their home several years ago, they found shipping orders on the backside of door frames that dated back to 1913. A contractor built the house for $1.75 per day. He lived near where the five-mile bridge is today, traveling before sunrise and after sunset to make the 20-mile round trip on horseback.

The Elmhorsts believe there might have been another house on the land as a stone foundation was found near the log house.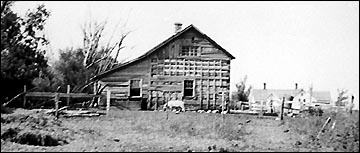 A progressive farmer in his time, Gustav allowed the University of Minnesota to tile the wetland southeast of the house in the 1920s. Trenches were dug using horses.
Evangeline's dad, Herman, lived in a log house on the Adolph Knebel farm until 1934 when he purchased the homestead (about 200 acres) from his parents.
Electricity consisted of a home power plant, which was run by batteries in glass jars, said Evangeline.
Rural electric installed electricity to the farm in 1940. "Dad had to get different light bulbs as REA had more power and the bulbs kept breaking," Evangeline said.
Herman had a diversified farm, raising pigs, chickens, sheep, and cows. Crops raised included flax, oats, corn, and wheat. The family sold chicken eggs, ducks, and turkeys in town.
Horses did all the work in the early years. The farm also had its own blacksmith shop.
Herman donated land for a school, which reverted back to the family when it was no longer used. At one time, his daughters were the only students at the school.
When Herman became sick in 1955, neighbors harvested his crops. He then placed the entire farm in the soil bank where it stayed for five years. Herman and his family moved to the Twin Cities where he worked until his death in 1979.
Geraline Heitke and Evangeline Elmhorst - great-granddaughters of Frederick - eventually purchased the farm from their parents. Mike and Evangeline Elmhorst moved to the farm from Wisconsin in 1988.
Today, the Elmhorsts have 40 dairy cows and a few beef cows. For the past two years, they have raised forage crops such as grains and alfalfa and no corn. "I can purchase corn cheaper than raise it," Elmhorst said.
The Elmhorst's hobbies include raising border collies and horses for English pleasure riding and showing.
---
Contact the author at paypress@lkdllink.net • Return to News Menu
Home | Marketplace | Community
---