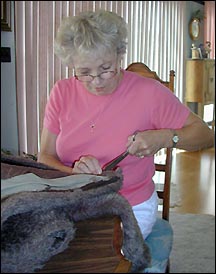 Four years ago, Vivian Johnson took a class on making teddy bears while wintering in Arizona. After making bears from three coats that belonged to a friend's late father, Johnson decided to turn her hobby into a business, Heirloom Bears.

"All the bears turn out differently," she said. "They each have their own personality." She makes three different sizes, ranging in size from 10 to 14 inches tall.

Johnson makes the bears using old coats that people want preserved as keepsakes. The coats may be an item that people no longer wish to wear but still want to keep.

Teddy bears make great gifts for children and grandchildren to remember loved ones, said Johnson.

The longer the fur, the cuter the bear, she believes. All the bears have jointed legs, arms, and head so they can be positioned in many different ways. Each bear is made from 22 pieces, and Johnson spends nine hours to make one.

She sews the larger seams on her sewing machine and sews the rest by hand.

Once the bear is assembled, Johnson shaves the bears around their nose, paws, and toes before adding facial expressions. "I decide ahead of time how each bear should look," she said. Sometimes she positions the mouth or nose at a crooked angle to give it a different look.

Besides fur Johnson has used fabric, NFL jackets, and sweat shirt material to make teddy bears. She prefers furry bears. She uses worn leather and suede for the toes and paws.

Johnson, who has spent her summers on Rice Lake for the past seven years, has turned her basement into a sewing room. "I have to keep the vacuum handy as the fur really flies when sewing," she said. Sometimes she takes her sewing outside and lets the birds use the leftover fur for their nests.

Johnson has made bears as Christmas presents for her grandchildren and as gifts for friends. She can be contacted at 320-243-4680.
---
Contact the author at paypress@lkdllink.net • Return to News Menu
Home | Marketplace | Community
---