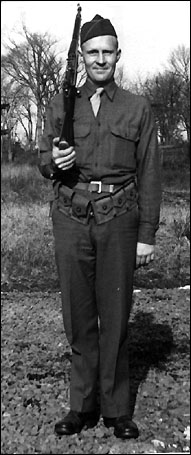 In August - a half century after he stormed the beaches on D-Day and 25 years after his death - Paynesville native Rudolph Nelson was awarded the Jubilee of Liberty Medal by the French government for his participation in the mission that freed Normandy, and then France, during World War II.

The Regional Council of Normandy was established to honor those who fought in Normandy to liberate the French people, according to the congressional certificate that accompanied Nelson's award.

Rudolph Nelson posed for this picture soon after he arrived in Europe during WWII. Nelson was a light machine gunner during Operation Overload.

Originally, veterans were honored in Normandy in June 1994, on the 50th anniversary of the D-Day landings. Now, the governor of Normandy in France has authorized the Jubilee of Liberty Medal be awarded to those veterans who were unable to travel to France then and has charged the U.S. Congress with locating and awarding the medal to veterans - or their families Ê- who fought in Normandy.

Congressman Mark Kennedy recently presented the medal to Nelson's widow, Viola Driste, during a ceremony held in Monticello.

Nelson was a 29-year-old machine gunner who was engaged to 21-year-old Viola when he landed on the beach at Normandy on D-Day: June 6, 1944. He had been in the military for two years and was attached to the U.S. Army's 29th Infantry.

He had been in Europe since January 1943 and would remain there until September 1945.

Over 150,000 men from more than 5,000 ships and landing crafts hit the beach at Normandy on D-Day. Thousands of Allied paratroopers had landed the night before to secure inland areas. By the end of the day, 4,900 Allied soldiers had been killed.

After the landings at five beaches on D-Day, Operation Overlord continued for six weeks in Normandy as Allied soldiers secured the beachhead, reinforced their lines, and captured a nearby port.

Rudolph's best friend had his heels blown off by a land mine, Rudolph later told Viola. After that, Rudolph always walked behind someone else.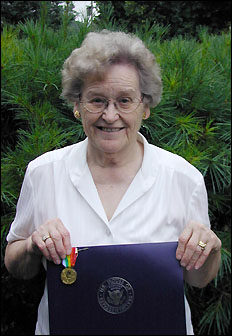 Soon after he landed in France, Rudolph wrote to Viola, "I just captured my first prisoners today and I guess they were glad to get captured from all the motioning they made as I couldn't understand them."
Later he told her that he saw guys take prisoners behind the lines and return in five minutes. He knew that they had shot the prisoners instead of securing them. He told Viola that he didn't have the heart to do that.
Viola Dreste holds the medal awarded to her late husband Rudolph Nelson. The medal, awarded bythe French Government, honors those that fought to liberate Normandy from Hitler during WWII.
Rudolph was injured twice while he was in France. He lost part of an ear after getting shot through the earhole in his helmet, and he received a wound to his thigh that landed him in a hospital. Viola never knew exactly how the thigh injury happened. She noted that Nelson always referred to it as his "million dollar injury" because it just missed his thigh bone.
Rudolph returned to the front lines after each of his injuries. He fought during the six-week Operation Overlord and continued to fight in Europe for nearly a year until Nazi Germany surrendered in May 1945.
The Jubilee of Liberty Medal will be added to the collection of awards Rudolph received for his service during WWII. He also received the Bronze Star for exposing himself to enemy fire while protecting his unit in February 1945 and was awarded two Purple Hearts for the injuries he received. He also received many other personal and unit citations.
He remained in Europe until mid-September 1945 when he boarded a ship for the trip home. He arrived in Paynesville in late September and married Viola in November. They were married for 30 years and had two children.
---
Contact the author at reporter@paynesvillepress.com • Return to News Menu
Home | Marketplace | Community
---