Henry "Jack" Holthaus was honored with the Lions Club's highest award in June. The Melvin Jones Award was given to Holthaus, a member of the St. Martin Lions, for his community service.

Holthaus was nominated by then-president Otto Kaschmitter, who told only a couple of members of the club he was making the nomination. The nomination - made to the Lions Clubs International, which ultimately chooses the recipients - must be accompanied by a $1,000 charitable donation from the club, said Kaschmitter, so it's a huge honor just to be nominated.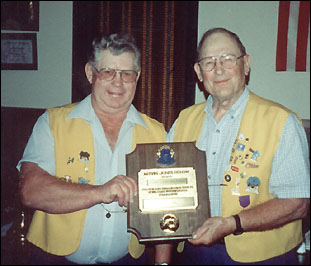 Kaschmitter said Holthaus has performed countless hours of community service, not just with the Lions Club, but with St. Martin Catholic Church, the Lake Henry American Legion (where he is currently the treasurer and is a past commander), and through his involvement with the baseball program in Farming. He added that Holthaus, who ha as delivered bulk fuel for the St. Martin Co-op for the past 24 years, even makes emergency deliveries on weekends and in the middle of the night and never complains.
Jack Holthaus (left) accepts the Melvin Jones Award fromm Otto Kaschmitter. The Melvin Jones Award is the Lions Club's highest award and was given to Holthaus his commitment to community service.
"Jack's philosophy is that you have to work for what you get," said Kaschmitter. "He's far-sighted and not afraid to express an opinion, but he never offends."
Holthaus, who had no idea he had been nominated for the award, was taken totally by surprise when it was given to him. He was present at the meeting with his wife, Doris, who was equally surprised. "I really appreciate that the club recognized me," he said.
The Lions Club is the largest service organization in the world and was founded by Melvin Jones in 1917.
The St Martin Club has donated money - raised in part by pull-tab sales - to the fire department, installed wheelchair ramps at one of the area's churches, planted trees in and around St. Martin, and has given grants to people in need. The club also takes part in collecting eyeglasses for those in need and sponsors drug awareness education for children.
The St. Martin club has 42 members, eight of whom are from Farming. The club was chartered 20 years ago by the Paynesville Lions Club.
Holthaus, who was recently elected president of the St. Martin Lions Club, has been a member since the club began.
The Melvin Jones award is given for excellence in community service. The recipient need not be a Lions Club member. The St. Martin Club last gave the award posthumously to Fred Pelz, a local inventor and entrepreneur who was not a member of the Lions Club.
---
Contact the author at reporter@paynesvillepress.com • Return to News Menu
Home | Marketplace | Community
---