Christenson brothers built round barn in 1925
This article submitted by Linda Stelling on 9/9/97.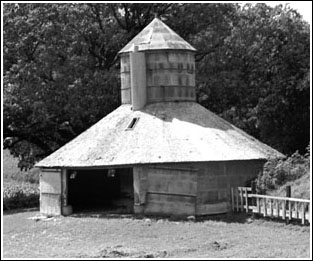 The "round barn" on the Allard Christenson farm was built in 1925 by his father, Alfred Christenson and his uncle George.
They purchased the farm from their father Martin Christenson in 1921 and it appears they were enthused about the first new building for the partnership, according to Allard Christenson.
The building is 46 feet in diameter with a 14-foot silo in the center. "It was built entirely of good western lumber, no home sawed stuff, to my knowledge," Christenson added. "They built it themselves and did a good job. I never heard where they got a plan."
The first 25 years or so, the silo was filled with a silage cutter set inside the building. The blower pipe on the cutter passed through a hole in the large roof to go up to the top of the silo. A tractor with a rather short belt powered the cutter. This was also parked inside the building. From 1950 to 1975 field choppers were used with only a blower set up in the silo shed as the corn was chopped in the field.
Beef cross youngstock were fed in the round barn. There is a feeding trough about two feet wide all around the silo. As there was no silo unloader, the silage had to be thrown down into the trough and then carried around the trough. "This was rather a tedious job," Allard recalls.
"As a kid, it was fun to have neighbors, friends, and relatives help fill the silo. I enjoyed having younger guys like Fred Liedman, Henry Sunde, Herbert Jacobson, and Orion Johnson help dad with the job. They added a little fun and were not quite so serious," Allard said.
The silo was last filled in about 1975. "My dad, Alfred, said it didn't seem like the same farm when the cattle were sold and the "round barn" stood empty," he added.
According to Allard, overhanging branches from a big oak tree were not good for the roof, so it is in poor shape on the southwest side. It appears it is not feasible to repair the roof so the building may have to come down. The building is not suitable for storage because of its limited circular space. But it did serve its purpose for 50 years.
"My grandsons (children of Becky and David Christenson) are the seventh generation to live on the farm. David and I have operated the farm for the last five years," Allard added.
---