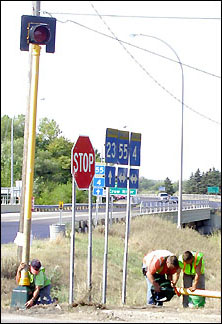 A four-way stop at the intersection of Highways 23 and 55 on the west end of Paynesville should be completed this week.

The four-way stop should be operational as early as Wednesday evening or Thursday morning. The intersection now will have flashing red lights and will require all traffic - both on 23 and 55 - to stop.

A study in July 2002 by the Minnesota Department of Transportation (MnDOT) determined that a four-way stop at the intersection was merited, due to the traffic volumes, traffic flow, accident history at the intersection, and the physical layout of the intersection. At the time that the study was done, there had been 13 accidents at the intersection in the past three years, including seven "right angle" crashes involving a vehicle on 23 and another on 55. "Right angle" crashes are generally the most severe, according to MnDOT.

Due to safety concerns, the city of Paynesville had asked MnDOT to consider either a four-way stop or a traffic light at this intersection.

A few factors led MnDOT to opt for the four-way stop, including the odd configuration of the intersection. Highway 23 curves sharply on the west end of town (likely a factor why Highway 23 stops at the intersection). This curve continues to be a deterrent to having a stoplight, according to MnDOT, because traffic approaching the intersection from the west on Highway 23 might have a difficult time seeing the signal at the stoplight until rounding the curve.

In addition, a four-way stop costs less than a traffic light. The low bid for installing the four-way stop in Paynesville was $32,177. Full intersections can cost five times as much.

MnDOT has also commissioned a study of Highway 23 in Paynesville, looking at the best future route of the road through or around town. The installation of a four-way stop is not related to this study.

The four-way stop in Paynesville should improve safety (by reducing accidents) and traffic flow on Highway 23, which is the busier road, according to recent MnDOT traffic studies.

But traffic on Highway 55 now will have to stop at the intersection.
---
Contact the author at editor@paynesvillepress.com • Return to News Menu
Home | Marketplace | Community
---