Ken Peterson wins honors at State Fair
This article submitted by Linda Stelling on 9/8/99.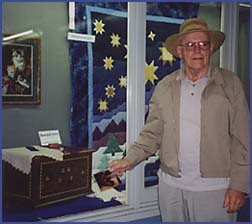 Ken and Dolly Peterson, Paynesville, had always talked about entering some of their craftwork at the Minnesota State Fair.

This year, Peterson decided the time was right and took a chest he had made and a counted cross-stitch picture Dolly stitched. (Dolly died in January of this year). He took his entries to the fair on Aug. 16. They weren't judged until Aug. 20.

Much to his surprise, his chest won the sweepstakes award and a purple ribbon. Dolly's entry also won a purple ribbon. (A purple ribbon is first place for each class. All the purple ribbon winners are judged again to see who wins the sweepstakes award, the highest honor an exhibitor can achieve in the open class division.)

"My niece had gone to the fair looking for my entries and was surprised at our ribbons. She quickly called home to her mother, who in turned called me with the news," Peterson said.

"I thought Dolly's picture would win. I never dreamed my entry would take the sweepstakes award," he added.

Peterson said Dolly's picture was a kit they had purchased while in England. It had taken her more than a year to complete the project.

His award winning chest was a project his daughter had requested he make for her.

"Linda had asked me to make her a chest so I went through my magazines and pulled out all the chest patterns I could find for her to select what she wanted," Peterson said.

The walnut chest with maple inlaid trim stands more than 10 inches high and is 20 inches long. "It took me about three months to make four of them in my spare time," he said.

The front of the chest features an inlaid design which Peterson made. "I could have bought the design, but I made my own," he stressed. "The inlaid has to be done right to look nice. One piece can't be wider than another. The chest pattern is called a New England Chest.

Peterson joked that the chest just shows what is possible if you set your mind to do something. The corners are all dovetailed. He scraped the scroll work on the front by hand.

The pattern recommended what woods to use. Peterson used walnut because it is a pretty wood. "I used a clear sealer and no stain," he added.

Peterson, 76, has been doing woodworking since he was in junior high school. In 1937, he made a hankerchief box which he still has. His serious woodworking projects started 20 years ago, after his retirement. Peterson's first project was restoring his grandmother's rocking chair.

Peterson has made all the wood trim (windows and baseboards) at the Paynesville Area Center, in addition to the television stand.

"I have plenty of other projects I could exhibit at the fair," Peterson said. Next year he is considering taking a Lazy Susan bookcase made out of walnut and another of Dolly's pictures.

Peterson said his next project is to make a door for the kitchen serving window at the Paynesville Area Center.
---