Sixth grade band students at Paynesville Area Middle School gave a concert during open house last week, thanks to summer band lessons offered this year.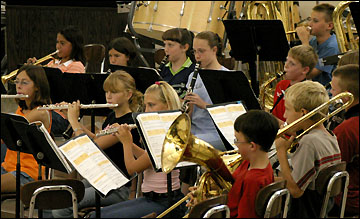 In July and August - for the first time since summer band was discontinued due to budget cuts three years ago - about 50 band students from the middle school and high school had an opportunity to work on their musical skills with lessons. The 35 sixth grade students got individual lessons, and all the students got group lessons.
Thirty-five sixth graders took part in summer band lessons this year and gave a concert at open house last week to display their musical talents. Summer band lessons were offered this year thanks to fundraising.
"Everybody in the summer program made great strides," said band director Ken Vork. Without help from parents and from the community, summer band could not have been re-instated, he added.
Since the summer band program ended, the number of band students has dropped dramatically, Vork said. Five years ago, more than 90 students in grades 8-12 made up the marching band. The declining number of interested students led to eliminating the marching band.
Summer band is important in keeping band enrollment high, said Vork, especially for sixth graders who need individual attention to get started.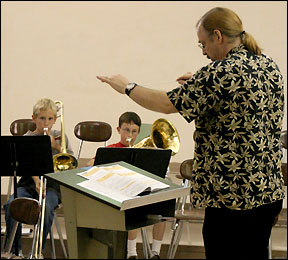 "I think music is just as important as sports," said Julie Jimenez, a band parent who was determined to help improve the school band. A strong school music program helps form well-rounded students, added Jimenez, who led the "Keep the Quality" Education Foundation campaign to raise the $2,500 necessary to have a summer band program this year.
Director Ken Vork hopes summer band lessons this year and a new band board will help improve the school band program.
Summer band was funded for one year only. Additional support is necessary to offer it again.
In addition, Jimenez helped organize a band board to continue to raise money for the band and to help plan concerts, events, and trips so Vork can concentrate on teaching.
Members of the new band board are: Delane Burr, Laurie Gottwald, Connie Haag, Jimenez, Julie Rittenhouse, and Jeanne Spanier.
With the help of the board, Vork hopes to be able to get the band back on track, possibly even rebuilding a marching band, he said.
---
Contact the author at editor@paynesvillepress.com • Return to News Menu
Home | Marketplace | Community
---