The temperatures at Bagram Air Base in Afghanistan reach 128 degrees in the shade, slightly more comfortable than the 140 degrees it reaches in the sun.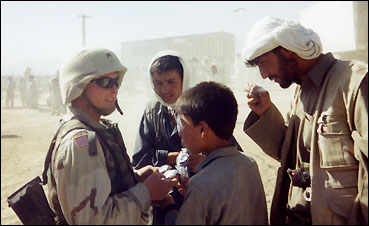 "You take one step out, and you feel yourself burn," said Jeremy Fuchs, a 2002 PAHS grad who is one of four Paynesville soldiers who has served four months at the base with the 367th Engineering Battalion, a reserve unit based out of St. Cloud.
The heat, at least, is dry, he said. And it drops to 70 degrees at night.
Jon Kulzer - shown off base, with locals trying to sell him goods - supervised a quarry during his first four months of duty.
Their unit looks to be stationed in Afghanistan until next spring, according to Fuchs and Jon Kulzer, who were both home recently on furlough. (Fuchs returned home in late July and flew back on the last day of August after six weeks on furlough. Kulzer, a 2000 PAHS grad, was home for 15 days, during which time he got engaged, before flying back to Afghanistan last week.)
The rumor is that their unit will be deployed until April 2005, said Fuchs. Kulzer, too, has heard that their unit may return next spring, so he figures he's through four months of a yearlong deployment.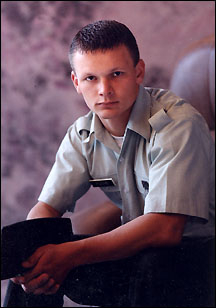 Also deployed with their unit are Leon Fuchs, a 2000 PAHS graduate, and Crystal Ring, a 2003 PAHS grad. Since mid-May, their unit has been stationed at the Bagram Air Base - a circular base with a six-mile perimeter, located 100 miles north of Kabul.
Jeremy Fuchs, a 2002 PAHS grad, enlisted in the reserves while still in high school.
The main job of the 367th is clearing mines, for which Fuchs and the other mechanics must keep the army trucks running. Battalion members also are building roads, constructing buildings, and lengthening the runway on the air base.
Kulzer, a sergeant, ran a quarry on the base, providing the rock and gravel used for building projects. Being the noncommissioned-officer-in-charge, he supervised two dozen pieces of heavy equipment - including 12 dump trucks, four road graders, and three bulldozers - and worked with 30 Afghani nationals.
"The people of Afghanistan are good people, the majority of them," said Kulzer. "The people I've worked with are good."
But in 25 years of war, first against the Soviet Union and then against the Taliban, the country's infrastructure has been destroyed, he said. Rebuilding the country "is what we're there to accomplish," Kulzer explained.
Kulzer spent about a half hour per week outside the wire, waiting to guide vehicles driven by the Afghani nationals onto the base. (For security purposes, every vehicle coming onto the base must be escorted.)
He was too comfortable with the men he worked, he said, sometimes not even carrying his weapon. So he is glad that when he gets back he will have a new assignment.
Fuchs, who has not left the base during his time in Afghanistan, agrees that the nationals are nice people, adding that they hate the Taliban. Some have even shown him bullet wounds from the Taliban, he added. While most are appreciative, he said, he has encountered some anti-American behavior.
Their base is relatively quiet, said Fuchs, especially compared to the experiences he has heard about in Iraq. They get occasional rocket fire at their base, but the aim - if any - is poor, with the rockets always landing outside the wire.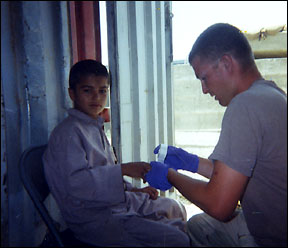 More thrilling for Fuchs has been experiencing two earthquakes.
Kulzer agrees that their base is relatively safe but does worry that things might get more intense during the upcoming Afghan elections.
Jon Kulzer tends to the cut hand of an Afghan boy while serving at the Bagram Air Base, approximately 100 miles north of Kabul.
Kulzer, Leon Fuchs, and Ring have worked in construction on the base. Leon Fuchs is one of the few welders on base and is very busy, said Kulzer, and Ring works on a construction crew, erecting buildings.
Jeremy Fuchs works as a mechanic in the motor pool, keeping the trucks working in the desert. "Sand gets in everything," he said.
At times, sand blows so strongly that visibility is less than 15 feet, he explained. And sand is not good for the vehicles. It gets in fuel, in pumps, in air filters. Every Saturday is maintenance day at the motor pool, said Fuchs, with the mechanics cleaning vehicles and performing regular maintenance.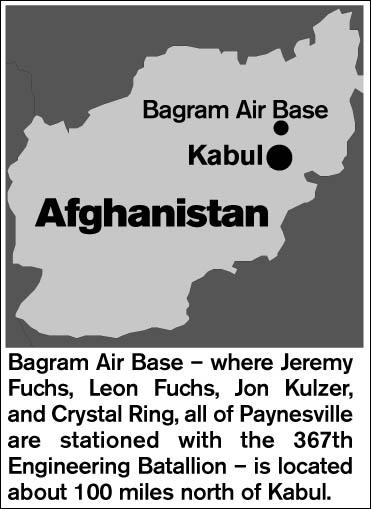 Major problems often require parts, which must be ordered. A line of vehicles in the motor pool are waiting for parts, said Fuchs.
Members of the battalion live six to a 30' by 15' air-conditioned hut, said Fuchs. In theirs, he said, they have constructed bedrooms and left a common area with TV, video games, music, and a microwave.
In his free time, he likes to go to the gym, to play cribbage, to watch movies, and to communicate with friends and family at home.
The unit has two phones to call home and four computers to use to send e-mail. Calling or e-mailing friends and family at home requires some waiting, but it just depends "how bad you want it," said Fuchs.
One bonus for Kulzer, who has an office, is that he has computer access. One of his favorite pastimes is e-mailing home from his office.
They both work six days a week, having Sundays off to rest. While Kulzer misses being home, misses his family and friends, and hopes to come home before they expect, he values experiencing a different culture and working in a different environment.
Anytime Fuchs gets homesick, he just thinks about his four bunkmates who are married and have kids at home and realizes being away from home is tougher for them than for him.
The army provides all the necessities, said Kulzer, but he still misses sleeping on a bed, not a cot, misses having a real bathroom, not a Port-O-Potty, and misses not having ice.
Fuchs has no regrets about joining the reserves, which he did while still in high school. He is proud to be serving his country, "knowing I'm defending what I think is right."
---
Contact the author at editor@paynesvillepress.com • Return to News Menu
Home | Marketplace | Community
---