If Jenn Terres had to use one word to describe her summer vacation, she'd say "awesome." Terres, a 2004 PAHS graduate took a three-week tour of Australia and New Zealand in July.

Terres was a student ambassador for People to People, a program started by President Dwight Eisenhower to send students to other countries to promote peace and understanding.

"It was absolutely awesome," grinned Terres.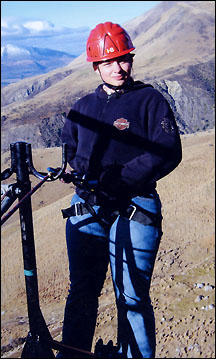 From visiting the New Zealand Parliament to scaling the bridge over Sydney Harbour, during her adventure Terres learned important lessons about herself and about others, even those who come from a difference culture.
Jenn Terres recently completed a trip to Australia and New Zealand as a student ambassador. She is pictured preparing to ab-sail down a 200-foot cliff in New Zealand.
Terres, who lives in St. Martin with her parents Kara and Nick Terres, spent three weeks of her summer living and learning with a group of 30 Minnesota students whose goal was to learn about others and to carry a message of peace.
During their 10-day stay in Australia, the American students did a lot of tourist activities, but they also got the opportunity to spend some time with a group of Australian students, who Terres didn't think were much different than their American counterparts.
When the students got together, they intentionally avoided discussing the war in Iraq, said Terres, but that left a lot of topics the students could cover. Some of the favorites were school, money, and their futures. And, while Terres noticed that the Australian students shared many of her same interests, morals, and goals, she still marveled at some of the differences, especially when it came to food.
"I ate the weirdest hamburger I've ever eaten," she said. It was a hamburger, tomato sauce (an Australian version of ketchup), a fried egg, and a slice of beet on a bun. "I took the beet off after the first bite, but egg on a hamburger is not bad," she laughed.
Visiting the Sydney Opera House and watching the preparations for a "Madame Butterfly" rehearsal was a lot of fun for the group, said Terres. Because it was built in the 1950s, however, the opera house - a well-known Sydney landmark with a breathtaking view of the harbor - was not what Terres and other students expected. It was very "retro," she said with one theater sporting fuchsia seats and lots of wool and pine for acoustics.
In New Zealand, where the group spent another 10 days, the student ambassadors were able to get a firsthand look at how that country's government worked when they visited its parliament. The formality of it all surprised Terres. For example, she was shocked to find out that when the Queen of England (the official head of New Zealand) visited, she wasn't allowed to enter rooms with green carpet. For Terres, that knowledge helped put the queen's power in perspective.
In New Zealand, the students took part in several extreme sports that they could only dream of back home in Minnesota: snorkeling around a shipwreck, sand tobogganing, and ab-sailing. Sand tobogganing, one of Terres favorite activities, involved riding down sand dunes on a sled. Going down was a thrill, but going back up was really hard, said Terres. In ab-sailing, Terres hung by ropes from a 200-foot cliff on a New Zealand volcano.
The extreme sports were just a few of the dozens of activities that Terres will never forget, but it was some non-extreme activities that had the most profound effect on her.
Seeing a flag from the World Trade Center that flies over a monument built with debris from the building honoring people from a small New Zealand city who died on 9/11 and living for a weekend with a native Maori family are memories that will likely stay with Terres long after the thrill of jet boating near Houka Falls has faded.
Terres joined People to People during her junior year at PAHS, but a motorcycle accident kept her from participating in the program last summer. Because she had already participated in a six-month orientation program that included monthly classes, she was considered an alumni for the 2004 trip, and she's glad she persisted in the program for all that she learned.
"I learned that just because they live 20,000 miles away, they're not really that different," said Terres. "We need to learn to respect each other," she added.
Now that she's home, Terres plans to spend the rest of the summer preparing to go to the Motorcycle Mechanic's Institute in Phoenix, Ariz., where she plans to become a Harley Davidson mechanic.
---
Contact the author at editor@paynesvillepress.com • Return to News Menu
Home | Marketplace | Community
---