Since leaving the Lake Henry Fire Department last fall, Dave Hess misses the rush to respond to an emergency. After 20 years on the fire department, it's difficult to do nothing when someone in the community needs help, he said.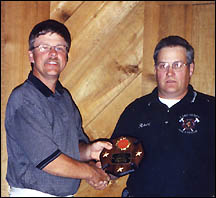 Last month, Hess was honored by the fire department for his 20 years of service, but he didn't feel like he deserved the ceremony. "It's just what you do when you live in a small community," Hess said.
Dave Hess (left) receives an award from fire chief Robert Pelzer recognizing his 20 years of service on the Lake Henry Fire Department.
Hess misses the adrenaline rush he felt every time his beeper announced an emergency and he misses serving his community, but what he misses most about being a firefighter is the "fireman's trust," the camaraderie he shared with the other members of the Lake Henry Fire Department. Relationships between firefighters are close because they put their lives in each others' hands every time they respond to an emergency, he said.
That bond is never more apparent than after a fire, when rescue workers gather and discuss the fire and unwind from the adrenaline that carries them through an emergency situation. "You have a weird moment after it's all over," he said.
Hess joined the fire department in 1983. His father, Floyd, was a firefighter, and and it just seemed like Hess should follow in his father's footsteps, he said. It never occurred to him not to join.
During his 20 years of service, Hess served as chief, assistant chief, and held other positions of leadership. In fact, it's Hess's leadership qualities that current fire chief Robert Pelzer has found hardest to replace.
"He's a hell of a fireman," said Pelzer. Even after Hess was no longer chief, he was the man that Pelzer depended on to help new firefighters learn the ropes. He has a quality that makes new firefighters feel at ease, added Pelzer.
A lot of changes took place between 1983 and 2003, said Hess. Primarily, firefighting equipment has made the job safer, enabling firefighters to work inside a burning structure instead of just dowsing a fire from the perimeter.
Also, when he was a rookie firefighter, Lake Henry didn't have first responder capabilities. According to Hess, he was one of the first Lake Henry firefighters trained as a first responder more than 10 years ago.
In spite of good equipment and training, Hess still faced some scary situations. One of the scariest was when he was a rookie. While responding to a fire in an old farmhouse he nearly fell out of a second story window, but a firefighter on a ladder caught him and pushed him back in the building. That was when Hess learned how firefighters need to depend on each other.
Hess reluctantly left the Lake Henry Fire Department after moving from that city to Paynesville Township (near Lake Koronis) in 2003. He still works at Lake Henry Implement in Lake Henry.
Hess briefly considered joining the Paynesville Fire Department but he decided that 20 years was enough, he said. Now he has more time to spend with his wife, Barb, and to follow the athletic endeavors of his daughters, Jen and Kim.
---
Contact the author at editor@paynesvillepress.com • Return to News Menu
Home | Marketplace | Community
---