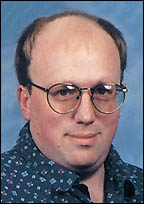 Dan Everson, 43, who grew up in Hawick, graduated from PHS in 1980, and lived in Paynesville for more than a decade, was found dead in a house basement in Dayton, Ohio, last week.

Everson, who moved to Litchfield in 2003, had been missing since late July, when he failed to return to work in Hutchinson after vacation.

According to his parents, Everson was friendly and outgoing, loved to travel, liked computers, and loved to meet new people.

His family has been concerned about Everson since he went missing in July, said his mother Alice. It was unlike Everson to miss work, she explained.

"It's so hard to believe he's gone," she said.

His funeral was held on Tuesday at Zion-Irving Lutheran Church, between Hawick and Paynesville, with internment in the church cemetery.

Everson was born in St. Cloud in February 1961 and grew up near Hawick, where his father, Palmer, ran the Hawick Blacksmith Shop, now run by his brother, Larry.

Everson attended country school in Roseville Township and graduated from Paynesville High School in 1980. After high school, he moved to Willmar and worked at Jennie-O Foods, where he continued to work after moving to Paynesville.

According to his family, he lived in Paynesville for around 12 years before moving to Litchfield in 2003. He moved to Litchfield to be closer to his work. For the past five years, he had worked with computers at Hutchinson Technology Institute.

His body was found on Wednes-day, Sept. 1, in Ohio, following a tip to the police. His death is being investigated as a homicide, according to the Dayton Daily News.

An autopsy was done, according to his family, but the results will take eight weeks.

Matthew Caddy, 52, the owner of the house where Everson's body was found, has been arrested in the case. So far, Caddy, a peace activist, has been charged with gross abuse of a corpse, tampering with evidence, and possession of criminal tools, according to the Dayton Daily News.

Police are also looking at other properties owned by Caddy and are investigating whether he met Everson over the Internet, according to the Dayton Daily News.

The Litchfield Police Department traced Everson's movements to three different states following his July disappearance, according to police chief Bruce Dicke.

Everson's family believes he took the bus on his last trip since his car was found near a Greyhound stop in Litchfield.

Everson is survived by his parents, his brother, and two sisters. A full obituary can be found on page 8.
---
Contact the author at editor@paynesvillepress.com • Return to News Menu
Home | Marketplace | Community
---