When Janel (Meyer) Hemmesch was a sophomore in college, she made a fateful decision to get a guitar and learn how to play. "Music was always a part of my life," explained the 1999 PAHS grad. "Basically, in college, I was missing part of my life, so I tried to learn guitar."

While Janel never came close to mastering the instrument, her then boyfriend, now husband, Dave Hemmesch, a 1998 PAHS grad, soon picked it up and found that he was good at it and loved playing it.

"I think the thing that really caught my interest was listening to songs on the radio and trying to figure out the chords to it," he said.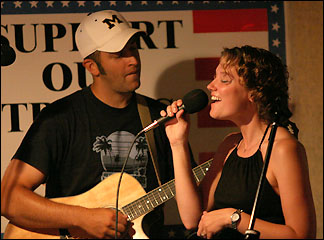 He also downloaded chords and tabs from the Internet and got pointers from a friend on the football team at Southwest State University. "I pretty much became obsessed with it," he said of his guitar playing.
Dave and Janel Hemmesch, know professionally as "Dave and Janel," played a gig in Paynesville this summer after the release of their first CD. The self-titled disc features ten songs, including references to Paynesville, including the song called "Koronis Hills."
Within six months, the duo - known as Dave and Janel - were playing their first public gig together: at the Fun in the Son Fest in Paynesville. Dave had never sung or played publicly before. Actually, he only ever sang in the car by himself. His dad Keith, who also serves as their roadie, was surprised how good Dave could sing the first time that he heard him on stage.
"Just the fact that he was willing to do that was pretty awesome," said Janel of Dave's debut.
This spring, their music took another step with the recording of their first CD of original music. The self-titled disc, "Dave and Janel," features 10 songs, including "Koronis Hills."
Dave started writing music over 18 months ago. He writes the melody on guitar, usually, and then Janel helps with the lyrics, with editing, and with adding other ideas for his songs.
Dave said he writes songs about "whatever I'm thinking or feeling." He likes writing songs "probably because it's a way to express yourself. It's one of the few ways I have to express myself," he said.
Though Dave wrote "Your Blue Eyes" and "I Love Your Smile" for his wife, Janel's favorites on the CD are "Away" and "I'm Sad." Dave's favorite is the first track, "Things In This World," because it has the fullest sound with piano and bass.
Dave said the most fun about making their first CD is listening to their record and hear them sound good.
Janel is most proud of overcoming all the obstacles to get the CD done.
They started recording the album in February at Staunchfield Studio, by Braham, which is a studio located in a pole shed on a farm. It took five months to record. Though usually just two voices and Dave's guitar at their live gigs, they added bass and piano to some songs on the record, and Janel added harmonies to the vocal parts.
They recorded in four-hour blocks at the studio whenever they had time. One step that took them longer than they expected was reviewing the first mixes and giving their input for the final mixes.
If they could have afforded it, they would have spent more time and money on the record to make it sound even better.
When they received the first copy of their album in July, they were amazed when they heard the CD, Janel said. And they have received lots of support from friends and family about the album, she added.
Since they both have other jobs, they try and do 10-12 shows per year, usually in bunches. They perform mostly in coffee shops and other intimate arenas.
They both think that playing live is fun."I personally think that music is a wonderful way to move people," said Janel. It's enjoyable when the band and audience are having fun, added Dave.
At their live shows, they do a few of their original songs but still sing mostly covers, everything from folk music to acoustic rock, from the country of Dixie Chicks to the Beatles, Bob Dylan, and Neil Diamond.
They hope their CD will help them to continue to build their reputation as performers.
"There's definitely a lot of work that goes into it, but it's a fun hobby," said Dave, who actually would like to make music into a full-time profession. Dave, a social studies teacher who is subbing and coaching after graduating from Southwest State in 2003, would be willing to travel across the country and tour., even though he knows this would not be "sensible."
Janel - who studied nutrition at South Dakota State University, also graduating in 2003, and who works as a public health nutritionist in Balsam Lake, Wis. - is satisfied to have their music as a sidelight.
As a matter of fact, Janel now gets too much music at home in Chisago City. "If there's a guitar in the room, he has to play it," she said. "He plays it constantly." So Janel has made a new rule: if they are watching TV, no guitar playing. This is tough on Dave, though, because he learned to play by picking out chords on the guitar and figuring out songs while watching TV.
Their CD, for $10, is available at www.cdbaby.com and at Lake Country Paint and Hardware in Paynesville, as well as at their gigs and on their website www.daveandjanel.com.
---
Contact the author at editor@paynesvillepress.com • Return to News Menu
Home | Marketplace | Community
---