(Editor's Note: Last week's article about new teachers in the Paynesville Area School District omitted Connie Ludwig, a new kindergarten teacher this year. Other new teachers this fall - all profiled last week - are ECFE parent educator Tricia Buggs, psychologist Jill Caroline, ECFE child educator Amy Jech, Title I/ESL teacher Brooke Johnson, multi-age (K-1) teacher Leah Pfeifer, kindergarten teacher Becki Quade, and communications teacher Cheryl Wyatt. Also new this school year is 6-12 principal Lorie Floura.)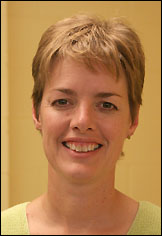 Connie Ludwig
Connie Ludwig is familiar with Paynesville Area Elementary School, where she is a new kindergarten teacher this fall. Ludwig spent six months at PAES last year as a long-term substitute, and she also did her student teaching at PAES the year before.
Ludwig - who has lived in the Paynesville area for ten years - said she has always wanted to be a teacher and enrolled at St. Cloud State University after attending high school in Paynesville and graduating from Pequot Lakes (where she grew up, except for a year and a half in Paynesville. She got married and had kids, though, which sidetracked her plans to become a teacher. Among her vocations were owning a restaurant and owning and operating a daycare.
When she returned to SCSU, Ludwig still wanted to become a teacher. She student taught at PAES in the 2003-04 school year (with Colleen Pelton in kindergarten and Jane Ruprecht in second grade). She graduated from SCSU in May 2004 and spent last year as a substitute teacher, including that six-month job at PAES.
Ludwig and her husband, Dan, live on a hobby farm by Roscoe. She enjoys fishing, gardening, doing crafts, and spending time with her four boys.
---
Contact the author at editor@paynesvillepress.com • Return to News Menu
Home | Marketplace | Community
---