When school started in the Paynesville Area Public Schools on Tuesday, Sept. 5, seven new teachers began on the staff.

New teachers for 2006-07 are: high school physical education and health teacher Jennifer Andrist; first grade teacher Becky Hecht; kindergarten teacher Megan Larson; second grade teacher Robyn Spaeth; middle school and high school communications teacher Erica Wendt; special education teacher Kristen Woelfel; and school psychologist Mike Young.

Spaeth (replacing Chris Quade) and Hecht (who will start in November, replacing Joyce Anderson upon her retirement) are new hires to replace retirees. Larson is replacing Lou Louis, who has taken a year's leave of absence. Andrist, Wendt, and Young are filling staff vacancies, and Woelfel's job is a new position in the district.

The school district held its annual open house on Thursday night, following three days of workshops and preparation by the teachers and staff. Classes for the 2006-07 school year began on Tuesday, Sept. 5.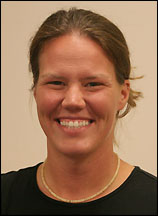 Jennifer (Tonsfeldt) Andrist, who is getting married in October (and is already using her married name), is the new physical education and health teacher in the high school.When school started in the Paynesville Area Public Schools on Tuesday, Sept. 5, seven new teachers began on the staff.
A native of Bloomquist and a Willmar High School graduate, she attended Ridgewater College and Southwest State University in Marshall, playing basketball for two years at Ridgewater. She did her student teaching in Willmar and has been a substitute teacher in Willmar for the past three years.
She decided to become a teacher based on her teacher and coach Hal Miller in Willmar, who is also a role model to her mentor at PAHS, Brad Skoglund, another Willmar grad. She enjoys teaching because she wants "to make a difference in young lives," she said.
Andrist is coaching the ninth grade volleyball team this fall and also hopes to coach girls' basketball, though she's not sure what level.
In her spare time, she likes to ride horse, camp, ride four-wheelers, dirtbikes, and snowmobiles, play sports, and spend time with her family and fiancÚ Dave.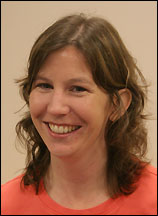 Becky Hecht will start as a first grade teacher at Paynesville Area Elementary School in November.
Hecht moved to Paynesville in 2002. She has had three long-term subbing positions in Paynesville and Eden Valley in first grade.
Born and raised in Goodhue, after living in New York and Tennessee, she returned to Minnesota to finish school at Minnesota State University-Mankato in 2000, earning a degree in elementary education with a geography minor and Spanish emphasis.
She taught sixth grade in Silver Lake for one year in 2001-02.
She was inspired to become a teacher by her fifth grade teacher, from whom she learned that "anything was possible." Also, the teachers she has worked with who have taken her under their wings have been helpful and always willing to answer her questions, she said.
"I just truly cannot imagine doing something else," said Hecht of teaching. "It's just a passion."
Her husband, Mark, is a Paynesville native and district manager for Renk Seeds. They live in Paynesville.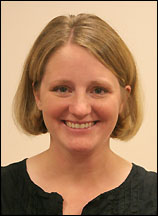 Megan Larson joins the Paynesville Area School District as a kindergarten teacher this fall.
Larson is a 1998 graduate of the University of Minnesota-Duluth, where she studied elementary education. Her first teaching job was in Woodbury for three years, working with multi-age students in a primary setting. In 2001, she moved to Clear Lake and taught first grade in Big Lake for four years.
Larson moved to Sauk Centre in 2005. She has been subbing throughout the area during the past year, including a long-term position in Annandale as a kindergarten teacher.
Larson said she entered college knowing she wanted to be a teacher and the teachers in her life inspired her profession. They include her mother, who is a first grade teacher in MACCRAY, her grandfather, who was a schoolhouse teacher and an elementary school principal, her husband, who is a high school principal in Sauk Centre, and her mother-in-law who is a retired teacher.
A native of Clara City, Larson and her husband, Cory, live in Sauk Centre and have two young children.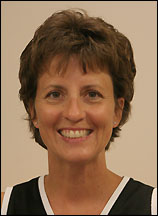 Robyn Spaeth starts as a second grade teacher this fall.
She has lived in the Paynesville area with her husband Rick for nearly 20 years. She taught in the ACGC School District for 13 years before staying home the last six years to raise her three kids.
Spaeth attributed a desire to teach to her own teachers. Her kindergarten and first grade teachers and an elementary music teacher were inspirational role models for her. "Whether they knew it or not, they were mentoring me," she said.
She graduated from Moorhead State University with a degree in elementary education.
Spaeth stayed home for the past six years to raise her children: Jordan, a junior at PAHS; Hayden, a ninth grader; and Lauren, a fifth grader. She said the time is right for her to get back to teaching; her kids are at a good age, and she feels ready.
She also coaches football cheerleading. She previously has substitute taught in the district.
In her free time, she enjoys sleigh rides on the farm, where her family cares for 20 Belgian horses.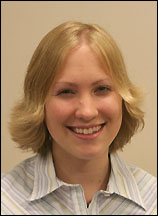 Erica Wendt is a new part-time communications teacher in the middle school and high school this year, as well as an aide in the middle school media center.
A native of Blaine and graduate of Spring Lake Park High School and the University of Minnesota-Duluth, she was a substitute teacher in New London-Spicer and Willmar last year after graduating from UMD in the spring of 2005.
Wendt and her twin sister used to play school as kids, and both became teachers in real life. "I've always wanted to be a teacher, since I was young," she said.
Wendt will be teaching sixth grade and seventh grade communications in the middle school, as well as narrative and descriptive writing in the high school to juniors and seniors. With a part-time teaching slate, she will also be working as a media center aide for a couple hours.
Wendt and her husband Jerod live in Willmar, where he works as an electrical engineer. She likes to travel (receiving a papal blessing with her husband this summer), spend time with friends, play tennis, and read.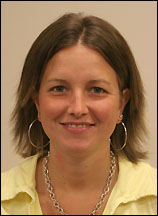 Kristen Woelfel is taking a new position as a special education teacher specializing in emotional and behavioral disorders (EBD). She will split her time, spending mornings at the elementary school and afternoons in the middle/high school.
A native of the New London-Spicer area, she has eight years of experience in teaching, spending three years in Willmar, a year in Rockford, and four years at Big Lake High School.
"I always enjoyed working with kids," she said of becoming a teacher. "I just looked up to the teachers I had in school and decided that's what I wanted to do."
After working her first job in Willmar, she decided to get her special education licensure. "In the regular classroom, I worked with some special education students and enjoyed it," she said, "so I went back to get my special education license."
She and her husband Chad have lived in Buffalo for the past five years but are moving back to the New London-Spicer area. They have a three-year-old son.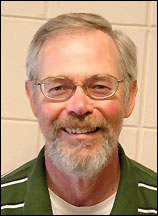 Mike Young brings 26 years of experience to his new position of school psychologist, working at the both the elementary school and the secondary school. Young actually works for the West Central Education District and has been assigned to the Paynesville schools.
Young spent the last eight years as a special education director for the Crow River Special Education Cooperative in Glencoe, serving primarily as an administrator.
He is returning to work as a school psychologist, having started as a school psychologist and therapist in Winona after earning his bachelor's and master's degrees. (He spent eight years in Winona, five in Stillwater, and five in New Ulm before going to Glencoe.)
He wanted to work as a school psychologist again largely in order to "get back with students." He will work with the special education department and will do student assessments and will work with individual students as needed.
He lives in Hutchinson with his wife. They have two college-age children. He enjoys hunting and fishing.
---
Contact the author at editor@paynesvillepress.com • Return to News Menu
Home | Marketplace | Community
---