Paynesville native receives lifesaving award
This article submitted by Linda Stelling on 9/6/00.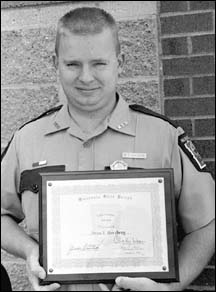 On his fourth day (May 21, 1999) as a member of the Minnesota State Highway Patrol, Dean Herzberg saved the life of a 16-year-old girl, about four miles east of Monticello on I-94.

"I was only doing my job," said Herzberg, who now lives between Paynesville and Grove City, of receiving his lifesaving award.

Herzberg received his award from the Minnesota State Patrol and the Department of Public Safety on Wednesday, Aug. 9, 2000, in Eagan.

Herzberg and his partner, Eric Mathwig, were leaving the Monticello Hospital when they responded to an accident. Even though the call was outside of their assigned work area, they were the closest car to the scene, Herzberg said. Their normal call area includes Meeker and Wright counties and part of Stearns County.

Upon their arrival at the accident, they found a tandem axle U-Haul trailer in the ditch with a flat tire. The driver was pulling the trailer when it came loose from her vehicle.

Herzberg and Mathwig arranged for a tow truck to assist the driver in getting the trailer out of the ditch and in changing the flat tire.

The driver's 16-year-old daughter decided to wait in the vehicle while the trailer was being towed out of the ditch.

When the driver checked on her daughter, she found her unconscious and asked Herzberg for help.

"As soon as I opened the door, I could smell the exhaust fumes," Herzberg said. He immediately pulled the girl from the vehicle and cleared her air passageway while Mathwig called for an ambulance. After regaining consciousness, the girl began crying and complained of a headache.

Herzberg said she had all the signs of carbon monoxide poisoning: shallow breathing and pink in coloring.

"They were driving an older vehicle with holes in the floorboards," Herzberg said. The windows were closed, making for poor ventilation.

The troopers were told at the hospital that in another two minutes the carbon monoxide level in the girl's blood would have been lethal.

Herzberg is a graduate of Paynesville Area High School. He is in his sixth year in law enforcement, having worked in Watertown, S.D., before returning to Minnesota. He is the son of Stan and Marsha Herzberg, Paynesville.
---