Dr. Clemma Nash starts at the Integrated Health Center
This article submitted by Michael Jacobson on 9/06/00.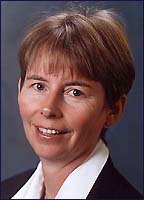 When Dr. Clemma Nash, M.D., started work on Friday, Sept. 1, at the Paynesville Area Health Care System (PAHCS); she became the third new doctor to start work for the system this summer, joining Dr. Heidi Malling who started in July, and Dr. Larry Strate, who started in August.

Dr. Nash actually met PAHCS through Dr. Strate. Both Nash and Strate did their residency at an inner city clinic in Milwaukee. Strate, who has family ties to Paynesville, signed first, and when Nash asked him about places to go in Minnesota he referred her to PAHCS, where she agreed to come, too.

A lover of the outdoors, the sights along the North Shore of Lake Superior first attracted Nash to Minnesota. When she visited here, she liked the friendliness of the people and was impressed by PAHCS. "The health care system is so progressive," she explained. "What Willie (LaCroix, PAHCS administrator) has done here is just so amazing, especially in a small community."

Dr. Nash also felt drawn to our community by her Midwestern roots. Her father is from a small town in North Dakota, and her mother is from Kansas, where Nash grew up in a suburb of Kansas City. "I came (to PAHCS), and I met everybody, and they were just the nicest people in the whole world," she said.

Dr. Nash got her undergraduate degree in psychology from Tulane University in New Orleans. Then she moved to Milwaukee, where she went back to the University of Milwaukee-Wisconsin for a nursing degree. For 15 years, she did nursing care in homes. Much of what she did was teaching and therapy.

The opportunity to influence people to lead healthier lives motivated Nash to go back to medical school at the Medical College of Wisconsin. "I really felt I could be a better impact to people as a physician," she explained.

Her nursing background also spiked her interest in holistic medicine. Nash emphasizes looking at a total person - spiritually, mentally, physically, and emotionally - and working with the person towards healthier living. "My nursing background really supports that because I've learned to listen to people," she said.

Dr. Nash has a keen interest in nutrition and attributes a large impact to overall health to diet. She also has experience with the medicinal power of massage.

She is learning about osteopathic techniques, which she plans to use to help muscular and skeletal problems. She also wants to learn about acupuncture.

Dr. Nash has special interest in women's health, especially with hormones and PMS, and in the chronically sick. She also likes working with children and elderly patients.

She will be working with Dr. Tom Sult at the Integrated Health Center in Paynesville (IHC). She will be at the IHC all day on Mondays and on Friday mornings. She will be at the Richmond Medical Clinic on Wednesdays and Thursdays. She will be taking walk-in patients at the Paynesville Area Medical Clinic on Friday afternoons.

Outside of the office, Nash enjoys a host of outdoor activities: backpacking, biking, gardening, and hiking. She is thinking about buying a canoe or kayak because, in Minnesota, she feels she needs some sort of watercraft. She also likes to cook.
---