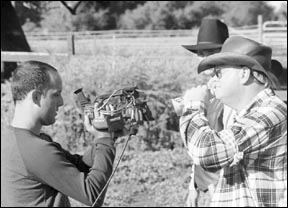 Jennie-O Turkey Store - the recently merged company formed by Willmar-based Jennie-O Foods and the Turkey Store of Barron, Wis. - used several locations around Paynesville last week to shoot a corporate video for a national sales conference.

Footage for the corporate video was shot at three locations in the Paynesville area - the Pilgrim Inn in Regal, along the railroad tracks, and at Flanders River Ranch.

Jennie-O and the Turkey Store merged six months ago to form the world's largest turkey company with annual sales of $1.2 billion and annual production of 1.2 billion turkeys, according to Steve Frank, vice president of retail marketing.

The company has 7,500 employees and 10 manufacturing plants that take turkeys from the farm to the fork. Jennie-O owns a number of turkey farms in the Paynesville area.

The video had a western theme because the sales conference will be held in Colorado. Video producers shot barroom scenes with the sales and marketing staff at the Pilgrim Inn in Regal, rescuing a damsel in distress along the railroad tracks, and at Flanders River Ranch.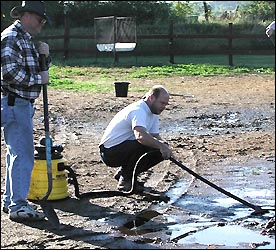 The video also focuses on the merger of the two companies and spoofs the former rivalry between the companies in an effort to enhance relations between former adversaries. On Thursday morning, they shot a scene called the gunfight at the Jennie-OK Corral, in which employees traded verbal barbs about their companies. It could be called turkey trash talk.
To make a scene just right for the video shoot, the producers dried the Flanders' horse pen using a wet and dry vacuum.
"The idea in a sales meeting is to have fun and create excitement within the national sales force so they go out and sell all kinds of stuff next year," explained Frank. The video will be shown to 90 or so sales managers from across the state.
Another video segment was recorded in Paynesville a couple weeks ago. Jennie-O Turkey Store's CEO and COO gave a welcome on horseback, and then Mike and Travis Flanders served as stunt doubles for them, riding horses at a gallop while impersonating the company chiefs.
---
Contact the author at paypress@lkdllink.net • Return to News Menu
Home | Marketplace | Community
---