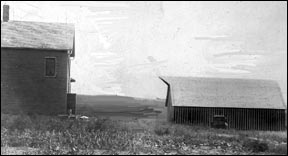 The Holthaus farm Ð 153 acres along the Sauk River and a couple miles west of St. Martin Ð has been in Doris Holthaus's family since 1891, when her grandfather purchased 320 acres.

The farm was homesteaded by John and Anna Marie Schmitz in 1891. The land had no trees back then.

This year at the Minnesota State Fair, the Minnesota Farm Bureau recognized it along with 243 others as Century Farms. Qualifying farms must have continuous family ownership for at least 100 years and must be at least 50 acres in size.

Doris's grandfather split the farm up between his children. In 1928, her dad, Henry Schmitz, purchased a portion of the farm from his dad so he would have a place for his new bride, Hildegarde.

Henry and Hildegarde raised a little bit of everything on their farm: corn, wheat, oats, buckwheat, chickens, pigs, and cows. The family sold eggs in St. Martin in exchange for groceries, according to Doris.

The Schmitz family did all their farming with horses until the early 1940s when they purchased their first tractor.

Her parents built the current farm house in 1946. A bedroom on the main floor was added later. Henry and Hildegard raised 10 children on the farm. Doris is the only one still living on a farm today.

John and Doris Holthaus purchased the farm from her parents in 1962.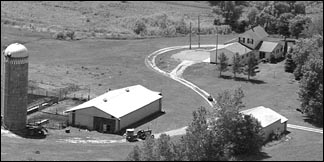 "When we bought the farm, there wasn't a tree on the place," she said. They planted trees on the sandy soil and faithfully hauled water from the creek to get the trees started. They planted a grove and did a lot of landscaping around the buildings.
Doris and John have planted lots of trees and built several new buildings on the farm over the years.
The farm place was built on a hillside with the barn below the hill and the house at the top of the hill.
Over the years, the Holthauses added four sheds and a silo to the farm. In 1970, Jack and Doris built a large chicken barn that held 15,000 hens. Straight winds blew it over two years later. They rebuilt it only to have it destroyed by strong winds again in 1983. "We decided not to rebuild a second time and got out of the chicken business," Doris said.
Holthauses had 50 dairy cows on the farm until 1980 when they quit milking and switched to raising beef cattle. Jack also worked construction until 1978 when he started working at the St. Martin Co-op. Since 1991, Doris has worked at the Good Samaritan Care Center in Paynesville.
They still raise beef animals, have some cats, and a few chickens.
They plan to retire on the Sauk Valley Road farm someday.
---
Contact the author at paypress@lkdllink.net • Return to News Menu
Home | Marketplace | Community
---