Manor residents recall days at PHS
This article submitted by Molly Connors on 9/3/96.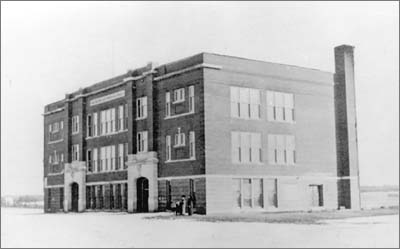 Paynesville High School as it was when Del Chisholm, Hazel Hood, and Clara Borsheim went there.
Chisholm and Hood graduated in 1926; Borsheim in 1919.
When Hazel Hood, Del Chisholm and Clara Borsheim went to high school, country kids came to town for the week and went back home on weekends.
Borsheim, who graduated in 1919, lived seven miles southwest of Paynesville. Her brother brought her and her older sister to town every Sunday night and picked them up every Friday night. In the winter, they came in bobsleds. In dryer weather, they drove a horse and buggy.
"One spring was very wet and muddy," Borsheim said. "The roads were especially bad · not fit for any kind of vehicle."
Borsheim's parents allowed her older sister to attend high school. Borsheim decided that she, too, needed a high school education.

"I cried until they let me go," she said.
Borsheim and her sister brought food with them to town, where they stayed in a house with several other girls. In later years, after her sister had graduated, Borsheim stayed with the Bill and Maggie Chisholm family. Two other girls also lived there.
Southwest of the school, there weren't any houses or buildings when Borsheim was in school.
"There was a great big field," she said.
Ten people graduated in Borsheim's class. Several dropped out, and Borsheim's class was the smallest one in several years.
Students dropped out because they couldn't keep up, or they "were taking grade school work in high school," Borsheim said.
Academically, the country kids kept up with the town kids. Borsheim, Hood and Chisholm never had to miss school to help with farming. However, Hood and Chisholm remembered boys missing school around harvest and planting. Chisholm's brothers didn't attend school past the eighth grade.
Although they never missed school, they had to work hard when they went home.
"Holidays weren't holidays. They were work days," Hood said.
For part of her high school years, Hood stayed with her sister in town, because her parents lived on a farm three and a half miles east of town. Later, her parents moved to another farm, two miles closer to town. Then, Hood walked to school. Occasionally, she walked home for lunch, because students had an hour and 15 minute lunch break.
Hood remembered some boys and girls who came from Hawick every day with a pony and a buggy.
All three women said they took courses that are similar to what is taught now: algebra, geometry, English, science, Latin, German and home economics. Home ec, however, was only for girls.
Hood and Borsheim both said they benefited from their sewing classes. Borsheim made a blouse and learned about patterns. She profited from her entire education.
"(Education) just generally helps you. Everything that you learn in your life helps you," Borsheim said. "You can't put your finger on just what" part of that education helps.

[ Return to Previous Menu | Archived Press Stories Menu | Return to the News Page ]
---