Chad Campbell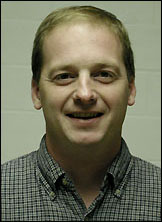 Chad Campbell didn't set out to become a teacher. As a business graduate at Concordia College, he started working in information systems for a bank in the Twin Cities but didn't find it very fulfilling.

In 2000, while still commuting to the Twin Cities from St. Cloud, he went back to school at St. Cloud State University where he earned a degree in library and media science.

His first teaching position was last year at MACCRAY, where he taught third grade. Because of budget cuts, however, his position was eliminated.

Fortunately, his new position at the Paynesville Area Elementary School as the new media specialist not only suits his educational background, he said, but is just two blocks from his home.

Married to Jackie Campbell, the counselor at Paynesville Area High School, he is thrilled to have a job close to home and in the district where his children, Jared and Kjerstin, will go to school.

Campbell is a sports fan and still plays amateur baseball in his hometown of Princeton.


Kristi Glup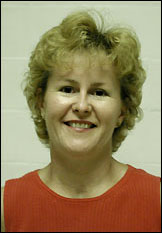 Kristi Glup has been a speech and language clinician for 13 years and is starting her first year at the Paynesville Area Elementary School, working primarily with second and third graders on a part-time basis.
Glup, a South Dakota native, earned her bachelor's degree from St. Cloud State University and earned a master's degree from Minot State University.
When she started college, Glup knew she wanted to work with children, but she didn't know which field would suit her. Once she took a speech/language course, however, she realized how important communication was and that helping children to communicate would be good, she said.
Glup and her husband, Scott, moved to Willmar from South Dakota last year. They have two kids, Morgan, who just started kindergarten, and Matthew, a fourth-grader. Because she is a busy mother, working part-time suits Glup because it allows her to be home when her children get on and off the bus, she said.

Keri Hatlevig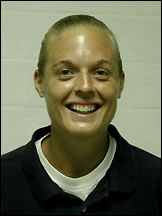 Keri Hatlevig - a native of Rushford, Minn. - graduated from Luther College in Decorah, Iowa, in May 2003 and took her first professional job as a high school health and physical education teacher in Paynesville.
She has wanted to be a health and physical education teacher and coach since high school, when her role model was her high school teacher and coach.
Hatlevig - who grew up on a dairy farm - will teach health and physical education in the high school and will also teach one physical education class for sixth graders. She also will be the junior varsity coach for both volleyball and basketball.
Hatlevig played basketball and softball in high school and college but never played volleyball competitively. She enjoys coaching it so much now that she wishes she had played volleyball, too. Softball is actually her favorite sport, but PAHS had no immediate coaching openings for that sport.
In her free time, Hatlevig likes to play and watch sports, to run, to be active, and to spend time with friends and family.

Sarah Krueger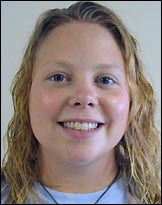 Sarah Krueger, who is from Sartell, graduated from St. Cloud State University in May 2003 with a degree in early childhood education. She is licensed to teach classes for babies to third graders.
In Paynesville, she will be the new teacher in the Early Childhood Family Education (ECFE) program with Becki Quade.
The part-time position will have Krueger teaching parent-child classes on Wednesdays and in the evening on other days. The classes are split in half: with parent-child activities together for half and with separate groups for the other half. Together they can learn actively, while separately the parents can share tips and develop a support group while the kids can socialize and do exploration activities.
During the school year, Krueger also plans to do substitute teaching in Paynesville and in Sartell.
Krueger worked this summer with the Tri-Valley Migrant Head Start in Belgrade.
Away from school, Krueger likes to camp, to kayak, to hike, and to read.

Rachel Nelson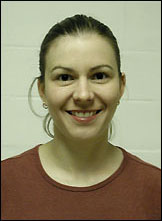 Rachel Nelson, a native of Jackson, Minn., will teach first grade at the elementary school this year.
A graduate of Gustavus Adolphus College, Nelson taught kindergarten in Hastings for three years before spending last year teaching first grade at Minnewaska. Her position at Minnewaska was eliminated because of budget cuts
Nelson, an avid reader, chose to teach first grade because she loves watching her students grow as readers, she said.
Paynesville has been an easy transition for her, mostly because other teachers and staff members have been friendly and really helpful, she said.
Nelson lives in Brooten with her husband, Zach. Besides reading, she enjoys quilting and fishing.

Jacquelyn Parsley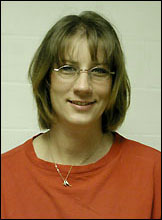 Basketball led Jacquelyn Parsley into teaching. After playing on two national title teams at NDSU and serving as student coach at NDSU and as an assistant high school coach in the Fargo area, Parsley decided after four years in the insurance industry that she wanted to become a teacher.
After earning her teaching degree at Valley City State University, Parsley (who has a business administration degree from NDSU) took her first teaching job in Cromwell, Minn., where she taught high school business classes and was the varsity basketball coach.
She applied in Paynesville because the area reminds her more of her North Dakota home and because she is closer to that home.
At PAHS, Parsley will teach high school business classes, including office practice, careers, and desktop publishing. She will be the advisor for the yearbook and for the local chapter of Business Professionals of America. The two-time all-NCC selection and honorable mention All-American will also coach the girls' basketball team at PAHS.
Parsley is a sports fan but does not participate as much since having major knee surgery. She likes to grow flowers and to spend time with her dog. After finishing her master's degree last year, she hopes to rediscover her other hobbies.

Tracy Piepenburg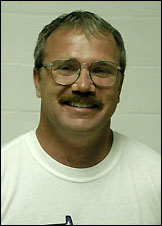 Tracy Piepenburg is the new life science teacher at Paynesville Area Middle School. Additionally, he is teaching a section of biology at the high school.
Piepenburg grew up in Litchfield, attended Bemidji State University, and also spent time in the army in order to pay for his schooling.
Piepenburg has ten years teaching experience: one year at Minnewaska and nine years at Lac Qui Parle.
"My family is trying to move up into lake country here," said Piepenburg, who likes that Paynesville is also close to St. Cloud and is a close drive to the cities. His wife is a special education teacher at Minnewaska, where his two children go to school.
After only one day of class, Piepenburg said he is impressed with the students. "They seem well-guided, and they know what's expected of them. They're really good kids," he said.
If there are coaching openings in the future, Piepenburg said he would like to get involved with middle school football and wrestling.
Piepenburg likes teaching biology because he considers it very practical. He is an avid outdoorsman, and when he's not in school he enjoys training his dogs for pheasant hunting.

Amy Samuel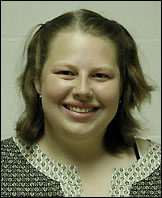 Amy Samuel will be a first-year special education teacher at Paynesville Area Middle School this year. Samuel grew up in Duluth and recently graduated from St. Cloud State University.
"I always knew I wanted to be a teacher," said Samuel. When she was in eighth grade, her family began hosting foster children with special needs. Her years of positive experience with them is what inspired her to become a special education teacher. "I enjoy finding what specifically helps them to learn," she said.
Samuel will be teaching a range of subjects within the special education department, including reading, communications, and social skills/study hall. She is licensed in both emotional and behavioral disorders (EBD) and developmental and cognitive disabilities (DC).
Samuel said she was attracted to Paynesville because of the small-town atmosphere. "Paynesville feels like a genuine community. People have been real nice so far," she said.
When she's not teaching, Samuel spends time with her husband, Jeff. She also has a rat terrier named Spike and a bulldog named Woody. "I'm pretty sure that's why I got the job," joked Samuel, about her dog.

Leza Weber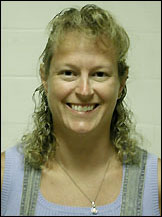 Leza Weber is the new emotional and behavioral disorders (EBD) teacher at Paynesville Area Elementary School.
A seasoned teacher, she brings over seven years of experience with her to Paynesville. A graduate of Northern State University in Aberdeen, S.D., Weber's most recent teaching job was at Rocori High School, where she spent two-and-a-half years teaching EBD students.
Before that, she spent two years teaching at an elementary school in Wisconsin and two years teaching title programs at the high school level.
She made the move to Paynesville because she wanted to work with elementary students, as most of her education is in that area, she said.
According to Weber, she's looking forward to working with Paynesville students and getting to know other staff members, who have been very welcoming.
Weber lives in Cold Spring with her husband, Bill, and two daughters, Hannah and Brittany. She likes fishing, gardening, and working with her horse.
---
Contact the author at editor@paynesvillepress.com • Return to News Menu
Home | Marketplace | Community
---