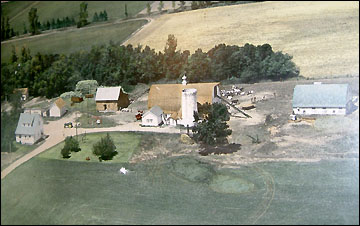 Even though farm sizes and yields must be increasingly large to stay profitable, for over 11 decades the Blonigen family has held onto their St. Martin Township farm.

"It's the best place to raise a family," said 63-year-old Leander Blonigen, who sold the farm to his youngest son Jeremiah in 1998. Blonigen said the kids helped with chores before school starting every morning at 6 a.m. It was the same for him when he was a child, having 20 cows to milk before the bus came at 7 a.m.

This picture shows the farm as it was shortly after Leander's father took over the operation. It has since been expanded to 75-100 dairy cows, over 100 steers, and more than 130 acres of farmable land.

Blonigen said almost all of his nine children were interested in farming. "Just about everybody would love to farm, but there is no money in it," said Blonigen. "You'd have to be bigger. With 160 acres, there isn't enough income in it." Blonigen said a lot of time is spent hoping times will change, because farming is so unpredictable.

In order to sustain the farm and keep income more predictable, Blonigen has been working a second job since 1985, when he would get up at 4:30 a.m. so he could be done with chores on time to be at Jennie-O by 7 a.m. Currently, both Blonigen and his son Jeremiah put in 40 hours a week working the night shift at Cold Spring Granite. "In order to make a buck I guess that's what you gotta do," said Blonigen.

The farm has been in the family since Blonigen's grandfather Mathias Mayers purchased 240 acres in 1891. He subsequently divided it up between his four daughters, including Blonigen's mother, Veronica (Mayers) Blonigen.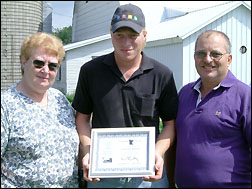 In 1947, Blonigen's father purchased an additional 40 acres to bring the farm's total to 160 acres.
Annette, Jeremiah, and Leander Blonigan with their century farm plaque.
Back when Blonigen's father took over the farm in 1931, he had 68 acres of farmable land and 13 cows that were milked by hand in a log barn. After milking in the morning, he would go out into the woods and cut lumber from what was then 60 acres of woods.
After a few new buildings and with the assistance of a bulldozer, the farm now has 75-100 beef cows, over 100 steers, and more than 140 acres of land for corn, oats, alfalfa, and soy beans.
When Blonigen was only seven years old, his mother died of cancer at the age of 41. "My dad had near a nervous breakdown, and my brother, who was 17, basically took over then," remembers Blonigen. He and his three brothers shared the workload, which became particularly heavy when the two oldest went into the service.
"I got heck every other day in school because I fell asleep in class. I didn't have time for homework," said Blonigen.
In 1962, Blonigen and his wife Annette bought the farm. The farm has continued to stand the test of time, even though it has faced challenges such as water contamination, tornadoes, and competition from larger operations.
"It used to be 40 bushels an acre was a bumper crop. Now we get 140 an acre and that still isn't enough," said Blonigen. "Back in the '40s corn was around $2 a bushel. It's barely that nowadays; we just produce that much more now." Blonigen said the cost of machinery is also crazy, especially compared to when equipment consisted of a horse and harness.
Blonigen enjoys that farming allows a person to be their own boss. "You can to some extent do what you want, as long as you follow your zoning and environmental laws," he said. Although small farms don't have much pollution, he recognizes the laws are necessary for regulating larger operations. Blonigen also thinks that groundwater is contaminated more by city residents than by farmers. "You don't dump too much chemicals or fertilizer on farmland because you can't afford it, but to them what is one bag of fertilizer for their lawn? It's enough for an acre or two on a farm," he said.
As for the future of farming, Blonigen has heard of computer-controlled tractors that can farm hundreds of acres without anybody sitting on them in the flat land of the Dakotas but suspects they will never be practical in Minnesota because they would get stuck too easily. He has also heard of greenhouses where one acre can produce as much as 100 acres of traditional land but thinks these are too expensive to take over any time soon.
"It would be nice to see farming go backwards and have less big farms, but it's hard to say," said Jeremiah, who will be getting married next year and hopes to keep the farm in the family.
---
Contact the author at editor@paynesvillepress.com • Return to News Menu
Home | Marketplace | Community
---