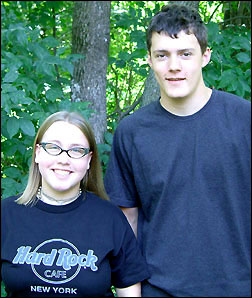 Adam Ingalsbe and Sami Tierney recently returned from All-State Choir Camp, hosted by the Minnesota Music Educators Association.

The camp was held for a week in August at Bemidji State University. In February, participants will reconvene in Minneapolis for rehearsals and performances at Orchestra Hall and the Minneapolis Convention Center.

The two Paynesville Area High School seniors auditioned for spots in the choir in March at St. Cloud State University. Students could audition for one of seven MMEA all-state performing groups, including orchestra, band and jazz ensembles, and choirs. Of the 2,125 students who auditioned, Ingalsbe and Tierney were among the 567 selected for an all-state ensemble.

Both Ingalsbe and Tierney sang in the mixed choir, Ingalsbe as a bass and Tierney as an alto.

In preparation for a performance given on the final day of the camp, the mixed choir rehearsed three times a day for two to three hours. In addition to singing traditional choir arrangements, the group dabbled in German, Spanish, Latin, and gospel songs.

"The main objective is mostly just to improve your singing ability and improve your high school musical group," said Ingalsbe, who also was in an all-state choir last year.

Ingalsbe and Tierney both enjoyed their director, Tim Sawyer. "It was nice to have Mr. Sawyer because he had just the right amount of work and play," said Tierney. "He kept things fairly relaxed," added Ingalsbe.

Sawyer - who is currently an associate professor of music and director of choral activities at Northwestern College in St. Paul, Minnesota - shared a Grammy award for the world premiere performance and recording of Krzyzstof Penderecki's Credo.

Breaks between rehearsals were sometimes used for socializing and other times used for seeing a talent show or hearing other performances. Tierney's favorite performance was by an acappela group called "Foreshadow," which she described as being similar to the group "Tonic Sol Fa."

Ingalsbe, on the other hand, got a kick out of a satirical performance by the all-state directors and section coaches entitled, "On The First Day of All-State," sung to the tune of "The Twelve Days of Christmas." The impromptu song detailed humorous events which occurred, naturally, on the first day of all-state camp.

"One thing I liked about the camp was I'd meet people from other towns in our area, and then I would recognize them at different sporting events," said Ingalsbe, who is the first PAHS student to attend the All-State choir camp two years in a row. "It was an enriching experience to be able to sing with people who have the same passion about singing," commented Tierney, who has been singing since she was nine months old. Tierney also recognized a number of people from other high school activities, like speech and girls state.

"I would encourage people to go for it," said Tierney of participating in an all-state ensemble. "It's a fun camaraderie that develops, and you can expand your friendships beyond town lines."

Both Ingalsbe and Tierney are involved in the pops choir and mixed choir at PAHS, and Tierney is also involved in two church choirs. They also sang together in On Call, a youth ministry group.

Choir students can audition for all-state as sophomores and again as juniors. Many members of the all-state choir had auditioned more than once. Tierney said she was more confident the second time around. Both students agree that there are a number of benefits to making the all-state choir.

In the past six years, PAHS has had nine students qualify for an all-state ensemble: Ingalsbe and Tierney in 2003; Trisha Chevalier (band) and Ingalsbe in 2002; Andy Jones (choir) in 2001; Becca Gardner (choir) and Scott Ingalsbe (choir) in 2000; Kelly Loesch (band) in 1999; and Mackenzie Merrill (orchestra) in 1998.
---
Contact the author at editor@paynesvillepress.com • Return to News Menu
Home | Marketplace | Community
---