Community welcomes eight new staff members
This article submitted by Linda Stelling on 9/1/99.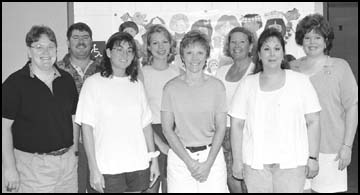 Seven new teachers and a new elementary principal will be on hand to greet the students today, (Sept. 1) the first day of the 1999-2000 school year in the Paynesville Area School District.

New at the elementary school are: Todd Burlingame, elementary principal; Charlene Strand, elementary music; and Diane Miller-Gertken, speech/language clinician.

New at the middle school and high school are: Joan Nevitt, middle school/high school media specialist; Dawn Knoll, middle school civics; Laura Ochry, eighth grade communications; Alycia Long, middle school special education; and Melinda Zachman, middle school.

New teachers in the Paynesville Area School District this year are pictured: (front, left to right) Dawn Knoll, Melinda Zachman, Diane Miller-Gertken, Laura Ochry; (back) Todd Burlingame, Alycia Long, Joan Nevitt, and Charlene Strand.

With the start of the new school year, a mentorship program will be in place for new faculty members.

The Paynesville Area School Board approved the formation of the teacher mentorship program at their Tuesday night meeting.

The purpose of the mentorship program is to help the beginning teachers learn their way around the schools, provide support, and learn school policies and routines.

"The district has seven new teachers this year and we want to give them a good positive start in the community," Karlin Jacoby, instructor, said.

"We learned about the program last year and felt if we were going to do the program, now was the best time," Jacoby added.

Becky Hoey, instructor, cited statistics that state by the year 2000, 75 percent of those teaching in 1990 will have left the teaching profession. "In the first seven years of teaching, most new teachers will quit because they feel isolated in a new community and they are not happy," Hoey said.

The new teachers to the Paynesville district met Friday morning to tour the elementary, middle, and high school. "We will be discussing with the teachers most things people take for granted... school policies and routines.

Each new teacher in the district has been assigned a mentor who will provide them support and answer any questions they might have.

Mentors this year are: Bill Virant, Karen Mumm, Karlin Jacoby, Tim Woehler, Murry Rafferty, Amy Flanders, and Tammy Botten.

Each year the mentors would change, creating a pool of mentors who are able to help the new staff members.

Through the mentorship program, Jacoby said they hope to create a begin-ning teacher assistance committee composed of teachers from each building, department heads, adminis-trators, and a school board member.

Other goals for the program include increased training for mentors through staff development; create a pool of mentors, more input from all staff members, use feedback from former mentors/mentees to improve and expand the program and develop a program handbook.

New staff members
Todd Burlingame
Todd Burlingame came to Paynesville from Virginia, Minn. He is a 1982 graduate of Canby High School and a 1990 graduate of Southwest State University, Marshall, with a degree in elementary education. He received his masters degree in elementary admin-istration from South Dakota State University, Brookings, S.D., and obtained a sixth year degree in elementary education from St. Cloud State University.

He has taught fourth grade in Volga, S.D., and fifth and sixth grade at Starbuck, Minn.

His goals as the new elementary principal are to rejuvenate the Parent Involvement Committee by recruiting more members and redefining its purpose and goals;

•To increase awareness of technological educational tools which benefit both teacher and students, and to move the staff into the new millennium with updated equipment and skills;

•To continue to facilitate the implementation of the graduations standards by providing time and resources to the teachers;

"I believe that the business leaders in our community are an invaluable educational resource, and I hope to build positive relationships with time," Burlingame said. "It's not only important to bring the community into the school, but bring the school out into the community."

Burlingame and his wife, Mary, have two daughters, Amanda, 13, and Kaitlin, 8. He enjoys boating, fishing, golfing, and spending time with his family and friends.

Joan Nevitt
Joan Nevitt comes to Paynesville from Brandon/Evansville where she was the media specialist for nine years. She is a graduate of Hopkins-Lindberg High School and St. Cloud State University. She is currently working on her masters at St. Cloud State University.

Nevitt's goal is to make the media centers the hub of the high school and middle school. "Hopefully, the media centers will continue to have warm, inviting atmospheres promoting learning and research," she said.

Nevitt has three daughters: Carrie is a recent graduate of the University of Minnesota-Twin Cities; Teresa is a freshman at the University of Minnesota, and Beth is a junior at Minnewaska. In her leisure time, she enjoys reading and working with computers, skiing, traveling, and spending time with her family and friends.

Dawn Knoll
Dawn Knoll comes to Paynesville from Warroad. She is a graduate of Stephen High School, and the University of North Dakota, Grand Forks.

Prior to coming to Paynesville, she taught civics and geography 10 years at Warroad, two years at Northwest ECSUŅadult basic education and two years at Indus Public Schools.

Her goal for her new position is to help students gain an understanding of the constitution and our government as it affects their lives.

Knoll lists as her interests computer technology, reading, and a love of outdoor activities.

Diane Miller-Gertken
Diane Miller-Gertken is a graduate of Eden Valley-Watkins High School and St. Cloud State University.

Miller-Gertken taught two years at the Kimball Elementary School and five years in the Sauk Centre School District.

It is her goal to enhance student's communication skills by using daily living situations.

Miller-Gertken and her husband, Brian, have one son, Trent. They enjoy camping, biking, fishing, and snowmobiling.

Melinda Zachman
Melinda Zachman is a graduate of Osseo Senior High School and Moorhead State University. She is currently working on her masters degree at St. Cloud State University.

Zachman comes to Paynesville from Brooklyn Park where she taught Special Education at North View Junior High School. She has also done long-term subbing.

"My goal for this year is to give my students the skills to effectively pass the graduation state test," Zachman said. "I also have the goal to become actively involved in my new community and school district."

Zachman is a newlywed and moved to the area with her husband who is a teacher in a nearby district. They enjoy many outdoor activities and have multiple hobbies.

Alycia Long Alycia Long is a graduate of New London-Spicer High School and St. Cloud State University. This is her first teaching position.

Long's goals for her students include increasing self-esteem, knowledge, and daily living skills in her students.

Long and her husband, Jason, enjoy riding horses, walking, snowmobiling, camping, and spending time with family members.

Charlene Strand Charlene Strand comes to Paynesville from Argyle, Minn. She is a graduate of Hankinson Public School, Hankinson, N.D., and North Dakota State University at Fargo.

Strand has taught music at Tuba City, Ariz, Eloy, Ariz., and Argyle, Minn.

"I'm very excited to step into a music program that has had a strong tradition of setting high standards for success," Strand said. "My goal is to continually strive for each student to have an appreciation of music that they can carry with them throughout their lives. As an enhancement to the music program, I would like to give students even more opportunities to perform by incor-porating a childrens' choir at the elementary level," she added.

Strand and her husband, Barry, have one son, Brody, 14 months. They list as their interests biking, spending time at Lake Anne, snowmobiling, going to basketball games, and anything that has to do with music.

Laura Ochry
Laura Ochry has six years experience prior to coming to Paynesville. She is a graduate of Detroit Lakes Community High School, Alexandria Technical College and Winona State University.

Ochry has taught at the Minneota Public Schools and Annandale Middle School.

Ochry states her goal for the new year is to become familiar with the students and Paynesville. "I will be working on developing a curriculum to help my students set and achieve high standards for themselves while meeting the outcomes set by the district," Ochry added.

Ochry lists as her special interests a love of learning as she has a variety of interests, but her favorite hobby is quilting.
---