Integrated Health Center will open Tuesday
This article submitted by Michael Jacobson on 9/1/99.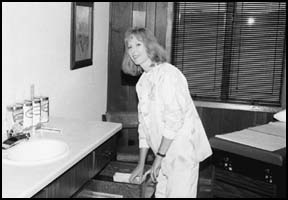 The opening of the new Integrated Health Center in Paynesville next Tuesday, Sept. 7, is the most visible evidence of the current expansion being done by the Paynesville Area Health Care System (PAHCS).

Mary Theis, L.P.N., prepares an examination room in the Integrated Health Center.

In addition to the clinic in Paynesville, which will integrate traditional medicine with complementary treatments, the system is building a new satellite clinic in Richmond and has purchased another satellite clinic in Watkins.

Integrated Health Center
Dr. Tom Sult will be moving his family practice from the Paynesville Area Medical Clinic to the Integrated Health Center (IHC). "He will see all of his Paynesville patients at that clinic,"╩explained Rosemary Devlin, clinic manager for PAHCS. "When people come to see him in Paynesville, they'll be coming to the Integrated Health Center."

Sult still will spend two days each week working at the system's satellite clinic in Belgrade. He will be at the IHC on Tuesday afternoons, all day on Wednesdays, and Thursday mornings.

In order to keep overhead costs down, the Integrated Health Center will be open primarily during the hours that Sult is there. The one exception will be Friday mornings, when chiropractic care will be offered in addition to the other days.

Sult incorporates complementary medicine, including acupuncture, family-centered childbirth, herbal medicine, and nutrition into his practice. He said the new location and new name will make it easier to interview and screen his patients. He will have more assurance that patients coming to see him have at least some interest in alternative treatments. "I think the primary benefit will be that people will go through the door with that expectation (of integrated medicine)," he explained.

The name, Integrated Health Center, is meant to imply a joining of conventional medicine with alternative methods. The idea is to integrate the two approaches. Dr. Sult said a high-level of sophistication is being brought to the project. "The unique thing about this is it's hospital, medical-system based," he explained. "We want it to be viewed as modern technology with patient contact using the least invasive method."

"You can't stress the fact enough that this man (Dr. Sult) is an extremely good family physician," said Devlin. "He knows when to blend this. He knows what he's dealing with from both sides."

Devlin added that Dr. Sult has extensive training in complementary medicine. He writes papers and speaks nationally on the subject. Patients come from other states to see him.

A new model
Dr. Sult's vision for the new health center is based on the model of the Mayo Clinic. He envisions it as having a generalist surrounded by experts in various methods of treatment. The generalist will review the patient's condition and will be able to recommend various treatment regimens.

The Integrated Health Center will offer chiropractic care and will have a registered nurse to assist in the education.

Jason Peterson, D.C., has been hired by PAHCS to provide chiropractic care at the clinic. He will work the same hours as Dr. Sult and will also be at the IHC on Friday mornings. Peterson described chiropractic care as the largest complementary treatment in the nation and an essential component of the clinic.

He will be using chiropractic adjustment, low force technique, acupuncture, electrical muscle stimulation, nutrition, and ultra sound. His approach is that the body knows best and has an innate ability to heal itself.

Having a doctor and chiropractor under the same roof provides an increased opportunity for conjunctive treatment, communication between practitioners while treating patients, and convenience for patients. "We each have our strengths," Peterson said. "We're putting those together under the same roof."

The massage therapist for PAHCS will be assisting Dr. Peterson at the IHC.

PAHCS currently is interviewing candidates for a new registered nurse position at the Integrated Health Center. This nurse will help Dr. Sult with patient education. Topics will include nutrition, herbal medicine, weight management, smoking cessation, and anti-aging medicines.

As of late last week, 14 applications for the position have been received by PAHCS, including several with experience in complementary medicine.

Atypical rural clinic
Devlin said complementary medicine is finally being recognized. "It's big,"╩she said. "It's what the people want. It's not going to go away."

"I think it's really exciting,"╩she added. "I think the community is really lucky to have something like this open in their midst."

Dr. Peterson said the Integrated Health Center was cutting edge and unusual for a rural community. "It's new. It's something unique," he said. "For Paynesville to have that is an asset."

The plan for the Integrated Health Center is to get started and expand, both in hours and in services. "We'll grow," Dr. Sult said. "This is the first step."

"We hope to continuously expand technologies," he added. The hospital board has already heard the merits of an accelerated CAT scan. A powerful microscope has been purchased by Dr. Sult and will be installed at the Integrated Health Center.

One worry was expressed by Willie LaCroix, PAHCS administrator. He said PAHCS has developed its reputation through solid primary care. "The risk to (us) is that PAHCS will become better known for complementary medicine than for primary care," he explained. "It might be a good reason to have the Integrated Medical Clinic at a separate location."

Staying put
Some alternative treatments will be staying at the hospital and not moving to the Integrated Health Center. Chelation patients will continue to be treated in the hospital. Patients who already receive massage therapy will continue to get their treatments at the hospital as well.

Richmond Clinic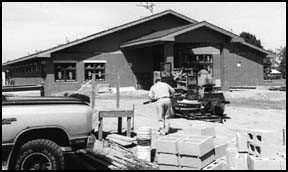 The construction of a new satellite clinic in Richmond continues to be on schedule. "All indications are that we're going to move in over Thanksgiving," said LaCroix. The new clinic could open in early December.
"When you see a blue print, you don't see the high ceilings and the light coming in the window," Dr. Randy Zimmerman, who practices in Richmond two days a week, told the hospital board at their meeting last week. "It's really nice."
PAHCS expects increased traffic in the clinic due to the increased efficiency at the clinic, more confidentiality, and a better image. "We're already seeing an increase in new patients signing up,"╩said LaCroix.
The clinic will continue to be served by Dr. Zimmerman and Dr. Allan Solum for two days a week apiece. Shari Heitke, nurse practitioner, also works there three days a week.
The new clinic building will also offer space for physical therapy, and Scott Liebl, who already spends time in Richmond, will be in the same building once the new clinic is complete. Pharm.D. resident Todd Lemke also plans to start spending one day a week in Richmond.
LaCroix said that demand will have to push the system to expand hours at the clinic.
Watkins Clinic
PAHCS has purchased a clinic in Watkins from CentraCare, which is part of the St. Cloud Hospital. CentraCare had planned to close the clinic next year, but instead sold it to PAHCS for $1.
Despite the bargain offer for the building, Devlin said the financial feasibility of the Watkins Clinic was studied before the deal was done. "The growth is really done in an educated fashion," she explained. "We're also really good at running clinics."
LaCroix said that the Watkins Clinic referred 148 hospital admissions last year. At an average of $5,000 per visit, PAHCS would need to capture only half of those visits to come out ahead. "Just that alone would pay for a physician over there, not counting procedures, and clinic fees," he said.
St. Cloud Hospital benefits from the arrangement because almost all referrals from PAHCS go back to them. Had another health care system started a clinic in Watkins, more patients would have been lost.
PAHCS takes possession of the clinic and starts their operation of it at the start of October. Dr. Tim Malling will be practicing in Watkins one day each week. PAHCS will also contract with the current nurse practitioner at the clinic for coverage on two additional days.
Medical reimbursements continue to be stagnant, according to LaCroix, which means growth and profits are the result of expanded coverage. "You're not getting any more (money) per procedure, so you just need more procedures,"╩he said.
"You've got to do it better than anywhere else," he added, "so they come here instead of there. Overall, we're doing a great job."
"Too often the primary objective is a good bottom line,"╩he continued. "If you do good health care, you're going to have a good bottom line."
Recruitment
One concern is the shortage of practitioners, with doctors spending more and more time covering the satellite clinics and less time in Paynesville. "We've got to be smart about where our physicians are at," said LaCroix.
And, in order to accommodate growth, more practitioners are needed.
PAHCS has already signed Dr. Larry Strate, who will start practice here in August 2000.
The system is continuing to recruit another physician to start next year and also is actively recruiting a mid-level practitioner, either a nurse practitioner or a physician's assistant, to start earlier.
Corrections
Last week's article on complementary medicine contained at least two errors. First, the Integrated Health Center was not named correctly.
Secondly, a statement about chelation should have said that proponents claim that chelation helps patients suffering from vascular disease. Both the American Heart Association and the Mayo Clinic acknowledge no proven benefits of chelation for vascular diseases, citing a lack of evidence from controlled studies.
---