When school starts on Thursday, Sept. 1, in the Paynesville Area Public Schools, seven new teachers will take their places on the staff.

New teachers for 2005-06 are: ECFE parent educator Tricia Buggs; psychologist Jill Caroline; ECFE child educator Amy Jech; Title I/ ESL teacher Brooke Johnson; kindergarten/first grade multi-age teacher Leah Pfeifer; kindergarten teacher Becki Quade; and middle school/high school communications teacher Cheryl Wyatt.

In addition, another staff change in the school district for 2005-06 is new secondary school principal Lorie Floura.

Teachers and administrators retiring after the 2004-05 school year were: elementary teacher Nancy Alstead, middle school teacher Wayne Hansen, 6-12 principla John Janotta, elementary teacher Ann Lundgren, elementary teacher Margaret McLaughlin, high school teacher Murry Rafferty, and middle school teacher Randy Ziemer.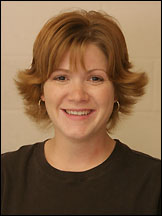 Tricia Buggs
Tricia Buggs comes to the Early Childhood Family Education program, where she will serve as the parent educator, from a background in social work.
Buggs, who grew up in Winona and attended Winona State., has worked as a social worker for seven years, most recently as a guardian ad litem, where she represented abused and neglected children.
Buggs, who will be working part-time at ECFE under a variance while she pursues her parent educator degree through St. Cloud State University, thinks her background in facilitating groups will help her in her new job. As a guardian ad litem, first in North Dakota for two years and for the last 18 months in Minnesota, part of her job was connecting parents to resources. She has also facilitated victim and offender groups as a social worker.
Buggs has lived in Paynesville for the past two and a half years with her husband Chuck, a police officer. They have two daughters. Tricia, who formerly worked at the fitness center, enjoys spending time with her family, working out, and running.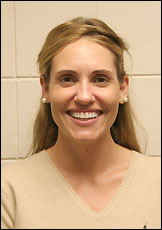 Jill Caroline
Jill Caroline is taking her first job as a school psychologist. The Fargo, native will have an office at Paynesville Area Elementary School and will split her time roughly 70 percent there and 30 percent at Paynesville Area Secondary School.
Caroline, who actually works for the West Central Education District, a group of four school districts, including Paynesville, will work full-time in Paynesville. Previously, the district only had a school psychologist part-time through the West Central Education District.
Caroline earned her undergraduate degree in psychology from Moorhead State University and received her master's degree in May.
Her job will entail doing assessment of students with difficulties and working with a team - including classroom teachers, special education staff, and administration - to find services to benefit them. She thinks being a school psychologist will mix her love of psychology with her love of kids.
Caroline, who lives in St. Cloud, likes being outdoors, walking, hiking, traveling, and shopping.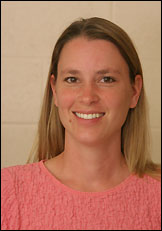 Amy Jech
Amy Jech will be the child educator for Early Childhood Family Education, as well as for Learning Readiness and preschool through Community Education.
Jech comes to Paynesville with six years of experience in early childhood education, including three years in Lake Park/Audubon and two years in Perham.
Jech, originally from Byron, attended the University of Wisconsin-LaCrosse (getting a degree in early childhood education) and St. Kate's (earning her elementary education degree).
She said she has always wanted to be a teacher and that she enjoys doing early childhood education. "I like the younger kids because they are so excited to be at school," she said, "and I get to be part of their first school experience."
Jech and her husband Jim, an executive with Sprint, built a new house by Lake Koronis after he was transferred to St. Cloud. Jech enjoys walking, being outdoors, being on the lake, playing golf, and doing yard work. She also worked this summer at Koronis Hills Golf Club.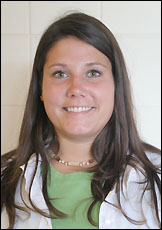 Brooke Johnson
Brooke Johnson returns to Paynesville Area Elementary School as the Title I and English as a Second Language teacher.
Johnson, who graduated in May from St. Cloud State University, did her student teaching at PAES last year. She worked with Lou Louis in kindergarten last fall and with Connie Backes in fourth grade last spring.
Now, Johnson will be working part-time in Title I (grades K-5) and ESL (grades K-12). Her schedule is not set yet and depends on the number of students in each program.
Johnson said she is excited for her first teaching job. "I've always wanted to be a teacher," she said. "My mom is a teacher, and I'd always help her get her classroom ready. I love kids, and it's fun to watch them grow."
"It's nice to come back (to PAES)," she added, "because I know most of the teachers and my way around the school."
Johnson, who lives on Big Kandiyohi Lake near Willmar, enjoys gardening, fishing, being outside, and reading in her free time.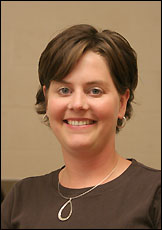 Leah Pfeifer
Leah Pfeifer is a teacher in the new kindergarten/first grade multi-age classroom at PAES.
This fall, after years of planning, the multi-age classroom will mix kindergarten and first grade students, with a combined curriculum. The new offering became a reality after an increase in state aid helped the district to hire another teacher.
Pfeifer, a Benson native who graduated from Concordia College, had taught first grade at Renville County West for three years but was a victim of budget cuts this year.
She said she is a strong believer in the multi-age concept and thinks her teaching style - emphasizing small groups and learning centers - will fit it well. She will be working closely with Rachel Nelson, the other multi-age classroom teacher, to develop the curriculum and to do planning. They also plan to have joint milk breaks for their classes and to hold joint exercises.
Pfeifer, who lives in Willmar with her husband, Jeremy, enjoys reading, biking, and spending time with family and friends, especially at her family's lake cabin.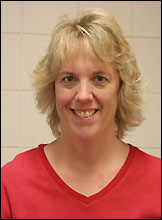 Becki Quade
Becki Quade will be a familiar face to many of her kindergarten students and their parents. An ECFE teacher in Paynesville since 1999, she has taken a full-time job this year as a kindergarten teacher.
Of the 21 students in her class this fall, Quade knows 17 of them, and their parents, from ECFE. She expects to have more of her former students and parents in coming years.
Quade, originally from Lake Benton, earned her degree in early childhood education from SDSU. She taught for two years in Chaska, Shakopee, and Waconia before earning her elementary education degree from Mankato State and then taught fourth and fifth grade for four years in Hutchinson.
She is excited to have daytime hours, which is better for family life, and to work with kids on a more consistent basis - everyday, all year - in her new job.
Quade and her husband Matt, a division manager for AMPI, have lived in Paynesville since 1999 with their three kids. Quade enjoys camping, reading, walking, and spending time with her family.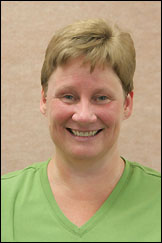 Cheryl Wyatt
Cheryl Wyatt is a new part-time communications teacher at Paynesville Area Middle School and Paynesville Area High School. She will be teaching two sections of eighth grade English and one section of narrative and descriptive writing to juniors and seniors.
Wyatt, born in Montana and raised in the Twin Cities, worked for 15 years as an administrative secretary at Spring Lake Park High School before wanting to get "out of the office, into the classroom" in order to be more involved with kids.
She graduated from St. Cloud State, where she is currently pursuing a master's degree in English and also working part-time as a graduate assistant. Previously, Wyatt taught for three years at Kimball.
Wyatt said she has heard good things about the Paynesville community and its support for education.
When she is not attending school herself or teaching, Wyatt likes to kayak, ride bike, garden, and read avidly. She lives on a lake by Kimball and will soon become a first-time grandmother when her daughter has her first child.
---
Contact the author at editor@paynesvillepress.com • Return to News Menu
Home | Marketplace | Community
---