Maybe Janet Hoiseth's house will become the screen star that she never did.

Hoiseth majored in theater at Macalester College a half century ago, but never used it. So when she saw a blurb in the St. Cloud Times in November 2004, asking for locations for a feature-length movie, Hoiseth volunteered her house.

The blurb asked for a 1950s-era house with a porch and green lawn, so she figured her home on Augusta Avenue, built in 1956, would work and called. "I said to them, 'I suppose you've had lots of offers,' but they said, 'No, we haven't had a single one.' So they were tickled pink, even if they had to drive 30 miles," recalled Janet.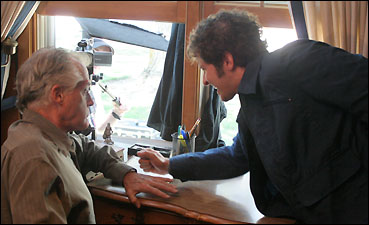 The movie, "True Love," is being written, directed, and produced by a trio of friends from St. Cloud State University. It's mostly all been shot on location, said producer Adam Lesar and writer/director Eli Ebb, who were at the Hoiseths' house in Paynesville last week to film a final scene in their study.
A final scene - a father-son confrontation - for the movie "True Love" was shot in Clint and Janet Hoiseth's study last week.
The movie, which follows three friends from high school to college, also shot scenes at the Mall of America, at St. Thomas University, and at St. Cloud Cathedral High School. The Hoiseths' house has served as the home of the parents of two principal characters in the film.
A half dozen scenes have been shot in Paynesville at the Hoiseths' home. The first scene was a "first kiss" outside in November 2004, with snow machines providing the winter scenery.
Next were several Christmas scenes - in different years of the film - in December 2004. For that, the filmmakers brought their own Christmas tree, filled the kitchen with hairdressers, and had several castmembers.
"Oh, we had kids all over the place," said Janet, who explained that she had done more singing than acting since marrying Clint and moving to Paynesville in 1947. (After counting in her log books, she estimated having sung at nearly 700 weddings, funerals, and other ceremonies.)
The Christmas scenes took the longest to film, from 4 p.m. in the afternoon to 12 midnight that day.
In August, they filmed another outside scene with Ian, Jake, and Abby - the three main characters in the film. For this, the crew did not arrive in Paynesville until 2:30 a.m. and filmed a scene where the characters come home from a party in the early morning hours.
They were very quiet when working at night, noted Janet. "I'm sure no one heard them talk, but how could they miss the lights? It was lit up like a football field."
"The whole front yard was lit up," said Clint Hoiseth.
The filmmakers have been very polite and good at cleaning up, said Janet. They're "good kids," she said. Last week, they filmed a confrontation scene with Ian and his dad in the Hoiseths' study. It was the last scene at the Hoiseths' house.
After last week, Ebb and Lesar expected that principal photography was 99 percent complete, though they do need some reshoots and pick-up shots. Then comes the post-production work to edit the raw film into a two-hour romantic drama, with humour, added Ebb, who wrote the screenplay two years ago.
The movie has funny moments, said Ebb, but turns serious at the end. "As the characters mature, so does the tone of the movie," he said.
Partly financed through student loans, the filmmakers plan to take their film to festivals in the hopes of attracting acquisition executives to purchase the film and distribute it. "We want it to be picked up and distributed," said Lesar. If the film is successful, it could lead to bigger budgets on their films in the future, they hope.
The filmmakers have scheduled a premiere for "True Love," for Saturday, Feb. 11, at the Paramount Theater in St. Cloud.
Janet - who has enjoyed watching the film being made at her house, seeing the set up, and viewing the drama - is excited to see the finished movie and plans to attend the premiere. "Oh, we'll have to go, sure," she said.
---
Contact the author at editor@paynesvillepress.com • Return to News Menu
Home | Marketplace | Community
---