Paynesville loses prominent civic leader in Lloyd Peterson
This article submitted by Michael Jacobson on 8/30/00.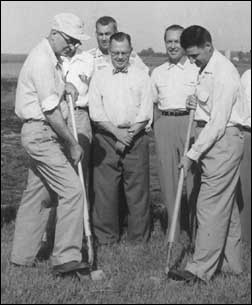 Lloyd Peterson, 81, a prominent agri-businessman and civic leader in Paynesville for more than 50 years, died on Friday.

Peterson grew up on a farm near Madison, Minn. He arrived in Paynesville with his wife, Ardyce, in 1948, after graduating from the University of Minnesota with a degree in agriculture education and serving in the Marine Corps during World War II.

Peterson was one of the pioneers in the commercial growing of turkeys, said his former business partner, Keith Langmo, who knew Peterson for more than 40 years.

Instead of raising birds in small quantities on small farms, Peterson was interested in innovative techniques that allowed for increased volume. "He was interested in trying new methods and trying to grow them on a larger scale," explained Langmo, who still raises turkeys commercially in the Litchfield area.

Lloyd Peterson, far right, turns over a shovelful of dirt for the first Paynesville Hospital June 26, 1955, which was built while he was mayor of Paynesville.

Maurice Dosdall, who worked for Peterson for 16 years between 1951 and 1967, said Peterson raised 10,000 turkeys annually when he started and more than a million when he left.

Dosdall, who served as mill manager for Peterson, described his former boss as "very intelligent, very foresighted. He could do things that would turn out good in the future."

Peterson sold his turkey farms in 1978. At the time, he had 4,500 acres devoted to raising birds. Since then, most of his barns in the Paynesville and Hawick area have been purchased by Earl B. Olson Farms of Willmar.

"All the time I've known him he was a staunch supporter of the turkey industry and agriculture in general," added Langmo, who like Peterson, earned an agriculture education degree from the university.

Peterson served as the president of the state, national, and international turkey growers federations. He was the president of the World Turkey Federation for eight years from 1970-1978.

He also was an active supporter of the University of Minnesota, including a six-year stint on the Board of Regents from 1979-1985.

Paul Bugbee, who has known Peterson all his life, had the chance to serve with Peterson on the Board of Regents, as Bugbee was the student representative from the University of Minnesota-Duluth. "He was always a strong, strong supporter of the St. Paul campus and an advocate for agriculture, agriculture education, and the extension service," Bugbee said.

Locally, Peterson was a civic leader, serving as mayor of Paynesville from 1960 to 1966 and serving on a number of boards and organizations. "He's a pillar of the community," said Bugbee. "He was so involved in church, civic organizations, clubs...you name it. It always amazed me that he could be so active and have so much impact."

Bugbee worked with Peterson on the board of the Koronis Lake Association. Peterson, according to Bugbee, was in a unique position to bridge the gap between lake residents and farmers. Peterson promoted buffer zones, proper manure management, and worked to secure money for conservation projects on farms. "He was a good person to do that because he had credibility and respect from the farmers," Bugbee said. "He helped ease the adversarial relationship between lake residents and farmers."

The result, according to Bugbee, has been the significant reduction of nutrient loading in the watershed that feeds Lake Koronis over the past 20 years.

In 1995, with the help of the government financing, Peterson had a $100,000 manure system installed on his "hobby" farm five miles southeast of Paynesville. David Brinkman, who is raising his 28th crop for Peterson, said Peterson loved his family most of all, but stewardship of the land was always a high priority, too. Peterson loved to do what was right for the soil, Brinkman said.

Peterson referred to the farm, which grew to include more than 1,000 acres, as a "hobby" farm. Brinkman said it satisfied Peterson's desire to stay involved in agriculture and raising crops.

Brinkman called Peterson a unique man, who was an approachable boss, eager to listen to suggestions, and always interested in what was happening on the farm.

Peterson served on the building committee for the Paynesville Community Hospital, which was constructed in 1955, and headed the local fund drive that raised money for the project. He then served on the original hospital board.

He also served on the building committee of Paynesville Lutheran Church, when it built its church on the corner of Hudson Street and Highway 23, which is now the Johnson Funeral Home.

"In church, he worked like mad," said Bertha Zniewski, who, like Peterson, is a 50-year member of Paynesville Lutheran Church. "He held every office."

In May, Peterson received the Hiram Award from the Paynesville Masonic Lodge. The award is the highest award that can be given by the local lodge, and recognized his service to the Masons and to the community for over a half century. He had a keen sense of humor and a knack for remembering places and dates, said Langmo, who was Peterson's neighbor for years on Lake Koronis.

Peterson was also a generous donor to the church, community, and university. His complete obituary can be found in the August obituaries.

A visitation was held for Peterson on Monday night, and his funeral service was held yesterday at Paynesville Lutheran Church.
---