Story by Erin Vork published in musical composition
This article submitted by Michael Jacobson on 8/30/00.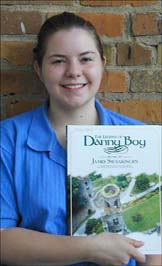 Erin Vork (at left with a copy of "Danny Boy") has always liked the traditional Irish song, "Danny Boy."

After singing it for a recital during her sophomore year of high school, she thought about the words, and the image of a father sending his son off to war inspired her to write.

Her fictional story is her recreation of the scene that inspired the song. She used setting and imagery of the song in her text, she explained.

Vork, who graduated from Interlachen Arts Academy in Traverse City, Mich., in June, has had the story posted on her website for two years. At the end of May, prominent composer James Swearigen contacted her by e-mail about the possibility of using her story in the program notes for his new composition, "The Legend of Danny Boy."

Swearigen, who has more than 300 pieces to his credit, was looking for something for the program notes, and a friend found Vork's story and brought it to his attention. He liked what he read and got permission from Vork to reprint her story.

The program notes are printed with the director's score. Program notes are intended to give the director and performers a feel for the music. "I guess (Swearigen) thought this would create a mood that would help the performers," Vork said.

Swearigen's song actually uses two Irish tunes, according to Vork. In addition to "Danny Boy," the song uses "The Minstrel Boy," another song about going to war. "If people don't recognize the name, "Danny Boy," they would recognize the melody," she said.

From Swearigen, Vork received a recording of the composition, which she enjoyed hearing. She also got three copies of the sheet music. She intends to keep one, donate another to the library at Interlachen, and give the other to the local school, where her father, Ken, is the middle school band director.

She also was paid, though "nothing to put me through college," Vork said. "The main perk of this is definitely to have my name out there, and to have my name with his," she explained.

"It's nice to say I'm a published author now," she added.

Vork graduated from Interlachen in June, performed in the community musical "Into the Woods" this summer, and will attend St. Olaf College in Northfield this fall. She plans to major in music performance with the French horn as her primary instrument and either voice or piano as her secondary instrument.

Her story about "Danny Boy" can be found on the web at www.lkdllink.net/ ~nudge/danny.html.
---