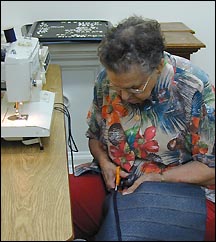 Every student at Paynesville Area Elementary School will have the opportunity to eat a free breakfast this year.

The free meals will be offered through the Fast Break to Learning Breakfast Program. This federally-funded program will provide breakfast for every elementary student, every Learning Readiness student, and every Early Childhood Special Education (ECSE) student starting the second week of school.

Volunteers from the Paynesville Area Center have been busy sewing book bags for the fifth and sixth grade students at the Paynesville Area Elementary and Middle Schools. Six ladies - Dorine Fuchs, Helen Mueller, Gladys Braun, Ruth Blake, Mae Burr, and Caroline Klein - started the project in June, meeting to sew every Friday.

"They say breakfast is the most important meal of the day," explained elementary principal Todd Burlingame. "We're hoping to improve behavior and learning."

Breakfast has been offered for several years at the elementary school, but on a paying basis. (Some families did qualify for free or reduced price meals, including breakfast and lunch.) "It was offered to everyone before, but now it's offered free of charge to all students," said Burlingame.

The elementary school has typically fed around 50 kids each morning, and school officials aren't sure how many students will want to eat now that breakfast is free. "It's going to be trial and error for us," said Burlingame.

For starters, he is expecting half of the elementary school's 450 kids to eat. To accommodate this number, the breakfast will start 15 minutes earlier than it has in the past. Breakfast will be offered from 7:30 to 8:15 a.m.

Kids will be asked to eat breakfast as soon as they arrive at school. "We want to encourage the kids: if you're eating, do it right away. Don't go to your locker. Don't go to your room," said Burlingame.

Meals will be similar to the breakfast menu of the past. The kitchen staff will try to have easy-to-serve meals to increase efficiency and to accommodate more kids..

Four or five school buses - mainly from routes north or east of town - will be dropping off students at the elementary school first this year to get the kids to the lunchroom earlier. This should help ease the flow of students eating breakfast, said Burlingame.

No sign up is needed for students to eat breakfast, but Burlingame still encourages parents to fill out applications for free or reduced-price meals. More families qualifying means more money for the school district.

Because free milk will now be available at breakfast, the elementary school will no longer have milk breaks with free milk. Teachers may still have snack breaks in their rooms, but no milk will be provided. Students may have water or will have to bring drinks from home.

The only exceptions are the afternoon sessions of kindergarten and ECSE, whose students will not have a chance to participate in the free breakfast program. These students will still have milk break and receive free milk.

Free breakfast should help classroom learning and behavior by eliminating kids who can't concentrate due to an empty stomach. Burlingame said the school will be monitoring improvement in achievement and behavior throughout the school year.

The kitchen staff will also be monitoring which breakfast meals are the most popular and other potential eating trends. For instance, certain days of the week may prove more popular for kids eating breakfast. This information should help the kitchen better plan and prepare for serving breakfast.

More information about the free breakfast program will be available during the open house on Thursday, Aug. 30, from 6 to 8:30 p.m. Mary Solum, head elementary cook, will be at the open house to answer questions about the breakfast program. At the open house, families will also have the opportunity to put money in lunch accounts and get applications for free or reduced-price meals.
---
Contact the author at paypress@lkdllink.net • Return to News Menu
Home | Marketplace | Community
---