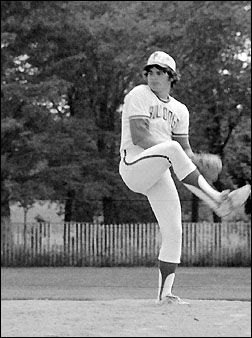 Lynn Hemmesch lived his life exactly as he wanted to - as a farmer.

Hemmesch pitched the Bulldogs to a district baseball title in 1977, was invited by the Minnesota Twins for a tryout, but what he really wanted to be was a farmer in Lake Henry, said his brother, Randy, with whom he farmed.

Lynn, 42, died in an apparent farm accident on his Lake Henry farm on Friday, Aug. 23.

Lynn was found in his cowyard on Friday morning. He had external injuries consistent with being trampled by livestock, according to the Stearns County Sheriff's Department. An autopsy is being conducted by the Ramsey County Medical Examiner to determine the cause of death.

Lynn as a standout baseball player in 1976 pitched the Bulldogs to a district title with a one-hit shutout in the championship game.

Their bull was still so ornery when Randy arrived that it had to be killed before he could enter the cowyard.

Lynn was raised in Lake Henry and developed a love for baseball at an early age. "When he was four or five years old he would pitch to me and our dad would be the umpire," said Randy. "He would pitch a nine inning game without a batter with our dad calling strikes and balls."

Lynn was selected all-conference in baseball for two years and played for the outstate team in the Lions All-Star Game in 1978, the year he graduated from PHS. In his three-year varsity career, Hemmesch had an ERA of 1.49 and a record of 14-13.

As a junior, Hemmesch pitched the Bulldogs to a district title. He threw a one-hit shutout in the district final, as the Bulldogs beat Dassel-Cokato 1-0. The Dogs lost in regions that year to St. Cloud Cathedral, the eventual state champ. Hemmesch had an ERA of 1.12 as a junior, and 1.19 as a senior.

He also earned all-conference honors for two years in football and wrestled as well.

Still, he always wanted to farm, studying farm mechanics at Alexandria Technical College. "Someday I'll be a farmer," he once told the St. Cloud Times during an interview about his baseball career. "After it's all over, I want to be a farmer."

But as a farmer, sports were never far from his mind either. He played amateur baseball for Lake Henry and Regal for more than two decades, until he was 40, and he managed the Lake Henry team for a couple of years.

Lynn's radio was always on, and he never missed a Twins or a Vikings game, said Randy.

"He loved sports, he loved farming, and he loved talking about sports and farming," said Randy.

Lynn helped his brother teach Randy's son (and Lynn's nephew) Nick, 8, how to drive a tractor and throw a baseball, Nick said.

According to many of his neighbors, Lake Henry lost a friend with Lynn's passing.

Bob Pelzer, the fire chief in Lake Henry, lived next door to Lynn. Bob described Lynn as a generous man, who donated a lot of work to building the new fire hall, even though he wasn't a member of the fire department.

His funeral will be held in Lake Henry at St. Margaret's Church at 11 a.m. on Wednesday, Aug. 28.

(Editor's Note: A full obituary for Lynn Hemmesch can be found on our obituary page.
---
Contact the author at editor@paynesvillepress.com • Return to News Menu
Home | Marketplace | Community
---