Photo page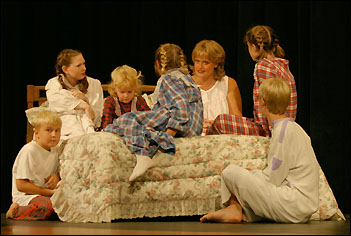 A local community theater group staged six performances of the well-known musical "The Sound of Music" in August, drawing large crowds to the school auditorium.
Total attendance for the six local performances was estimated at 1,600, with an audience of 425 on opening night (Wednesday, Aug. 13) and a near sellout (500 people) on Tuesday, Aug. 19. The show attracted an average crowd of 265 people and ended its six-day run on Wednesday, Aug. 20.
Maria (Sharon Bergman) gathers the von Trapp children - Andrew Swenson, Caitlin Lien, Teirrah Syvertson, Jacki Jo Skoglund, Emily Mehr, and Peder Thompson - on her bed during a scene from "The Sound of Music."
"In a town this size, to sell more than 1,500 tickets, is quite an accomplishment," said director Ian Pelton. The laughter and applause during the performances made all the long hours in rehearsals worthwhile, added musical director Charlene Strand, who thought the audience response was tremendous.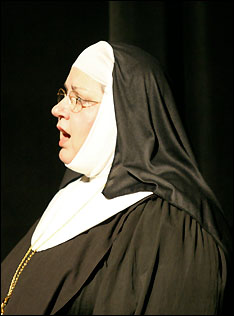 The local theater group presented the original Rodgers and Hammerstein play, which won a Tony award for best musical in 1960. The movie version of "The Sound of Music," starring Julie Andrews, won the Academy Award for best picture in 1965.
Mother Abbress (Sue Walther) sings "Climb Every Mountain" as the von Trapp family leaves the abbey for Switzerland.
The musical features a dozen songs, including a couple songs that were not in the movie version. Familiar songs include "The Sound of Music," "My Favorite Things," "Climb Ev'ry Mountain," "So Long, Farewell," and "Edelweiss."
While a summer production Ð with six weeks of rehearsals and one week of performances Ð takes a great deal of commitment, the enthusiasm and willingness of the cast and the volunteers made it worthwhile, according to Pelton. "I couldn't have been happier," he said. "It's refreshing when you get people who want to be here."
Tryouts were held for the play in June, and rehearsals Ð five nights per week Ð began in July. The performances were held over a week in August.
Sharon Bergman, who played the lead role of Maria, was one of several cast members with little stage experience, just church musicals as a youth, she said, though she did have singing experience. She was convinced to try out for the local production because "The Sound of Music" is her favorite musical and thought that the practices and performances were fun.
"I always wanted to be in "The Sound of Music" Ð it was always in the back of my mind Ð but I had never had an opportunity to do it," said Bergman. "It was kind of a dream come true to be in The Sound of Music and to play Maria."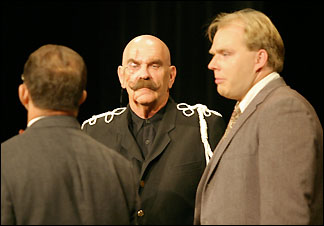 Working with the kids, the directors, and the other cast members was a delight, said Bergman.
Strand was also thankful for the Peltons and the other volunteers that made the production possible, saying their enthusiasm and passion for the theater are contagious.
Admiral von Schrieber (Lindsay Hull, center) confronts Captain von Trapp (Dave Wilke, right) as Max Dettweiler (Jim Beckstrand, left) watches.
This summer's production of "The Sound of Music" was financed by a $3,000 grant, which was needed to stage such a well-known musical. Just royalties and the script rental cost $2,000.
The great turnout should help the local theater group to afford to stage another musical or play in the future, since productions face up-front costs like royalties.
Pelton is already considering staging another musical next year, though his preference would be for a musical not as well known as "The Sound of Music." "There are a lot of plays out there that are wonderful and would be standards if people would do them," he explained.
Cast of Characters
The Sound of Music
Maria: Sharon Bergman
Captain von Trapp: David Wilke
The Mother Abbess: Susan Walther
Sister Berthe: Carolyn Swyter
Sister Margaretta: April Mathias
Sister Sophia: Cahlean Klenke
Postulants: Stephanie Wandersee, Paula Geier, and Carol Heitke
Franz the Butler : Dick Butler
Frau Schmidt: Sami Tierney
Liesl: Lindsey Pelton
Friedrich: Peder Thompson
Louisa: Caitlin Lien
Kurt: Andrew Swenson
Brigitta: Emily Mehr
Marta: Jackie Jo Skoglund
Gretl: Teirrah Syvertson
Rolf Gruber: Josh Williquette
Elsa Schrader: Sheila Merrill
Ursula: Paula Geier
Max Dettweiler: Jim Beckstrand
Herr Zeller: John Merrill
Frau Schweiger: Amanda Halvorson
Baron Elberfeld: Steve Swenson
Dwight Peteler Dancers : Ezra Thompson, Laura Stoneburner, Kathy Ziegler, Courtney Colbert, Nicole Schlangen, Trisha Chevalier, Mitch Pearson, Dessiare Housman, Jacob Housman, Andy Yerka, Klaire Lockhart Belle, and Karelle Steinhofer

Director: Ian Pelton

Musical Director: Charlene Strand

Accompanists: Amy Syvertson and Cindy Zimmerman

Sound Technician: Amanda Halvorson

Stage Manager: Jenn Terres

Assistant choreographer: Sami Tierney

Vocal Extra: Karen Theel

Scenery/Design: Molly Zimmerman, assisted by Ginelle Zimmerman, Callie Bennett, and Rheanne Zimmerman Seamstress: Brenda Whitcomb

Tickets/Publicity: Colleen Pelton

Stage Builder: Ian Pelton, assisted by Lindsey Pelton and Sue Voss
---

"The Sound of Music" photo page

Contact the author at editor@paynesvillepress.com • Return to News Menu

Home | Marketplace | Community
---