School will start Wednesday, Sept. 1
This article submitted by Linda Stelling on 8/25/99.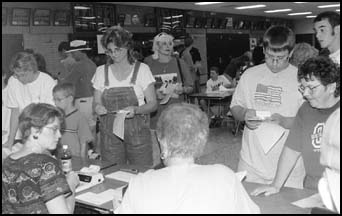 Wednesday, Sept. 1, marks the first day of school for the 1999-2000 school year in the Paynesville Area School District.

Teachers will be reporting for workshops at the high school on Monday and Tuesday. Students will report to their respective classes on Wednesday.

The school day at the high school starts at 8:15 a.m. and ends about 3:10 p.m. The elementary school also starts at 8:15 a.m., but ends the day at 2:55 p.m. The middle school day starts at 8:10 a.m., and ends at 3:15 p.m.

Last week was registration for all Paynesville students. Students could get their schedules, find their lockers and classrooms; while parents could pay for school lunches and other fees.

The accelerated reader program is being expanded in the elementary and middle school this year. This is the third year for the program in the elementary school. It was started in the fourth and fifth grades. It will be expanded to the third grade in the elementary school and sixth grade in the middle school this year.

"The accelerated reader program has helped improve reading scores and promotes reading," Todd Burlingame, elementary principal, said. It is a program where students read books and answer questions on a computer about the book. The books in the library are coded for various reading levels.

The program won't be ready until the second quarter in the middle school. "We will concentrate on providing the accelerated reader program for the sixth graders who are familiar with it from last year. We are encouraging the seventh and eighth grade teachers to give it a try," Deb Gillman, middle school principal, said.

In the high school, students will see very few changes, if any. The Spanish program has been expanded to include a Spanish III course, John Janotta, high school principal, said.

Another new course is business technology which replaces keyboarding. "All the principles of keyboarding are included in the program which features an upgraded computer lab," Janotta said.

Enrollment
Enrollment in the high school will remain about the same as last year, 436, in grades nine through 12.

Preliminary enrollment figures in the elementary school shows 35 new students enrolled in kindergarten through fifth grade for a total of 530 students.

The middle school enrollment is also about the same as last year, 322 students. Preliminary enrollment figures shows the district has about 1,288 students this year. This compares to 1,353 studens in grades kindergarten through 12th grade last year

New staff
Students will see a few new faces in school this year. New to the district are:

•Charlene Strand, elementary music;

•Laura Ochry, eighth grade communications;

•Alycia Long, special education;

•Diane Miller-Gertken, speech clinician;

•Melinda Zachman, special needs teacher;

•Joan Nevitt, high school/middle school media specialist;

•Dawn Knoll, eighth grade civics; and

•Todd Burlingame, elementary principal;

•Karen Hecimovich, custodial staff; and

•Mary Hedtke, custodial staff.

Staff changes
•Gary Haglund returns from a leave of absence and will teach seventh grade life science;

•Kim Gulbranson moves from special needs to teaching sixth grade science and reading;

•Lou Louis will be moving from Title I to teach full time kindergarten;

•Cheryl Colbert will move from teaching fourth grade to Title I this year;

•Margaret McLaughlin moves from second to third grade.

Education tax credits
In shopping for school supplies don't forget to save your sales receipts. Senator Michelle Fischbach reminds readers about Minnesota's education tax credit and eduction program. "If you save your receipts, you could save yourself money," Fischbach said.

To date, the Department of Revenue has estimated that 50,000 families claimed the education tax credit in 1998. A good start for a new program, but there's definitely room to grow, Senator Fischbach said.

For those who aren't familiar with the legislation, Fischbach outlined a few highlights:

•All families, regardless of income, can receive a tax deduction of up to $1,625 per child in grades kindergarten through sixth grade and $2,500 per child in grades seven through 12 for qualified education expenses. Items that qualify are things such as books, tutoring, academic summer camps, textbooks, and instructional materials, enrichment programs, and educational computer hardware or software.

•Families with annual household incomes of $33,500 or less can receive a tax credit (that's a dollar for dollar refund) of up to $1,000 per child (capped at $2,000 per family) for qualifying education expenses. However, the tax credit cannot be used for private school tuition.

•Families with incomes between $33,500 and $37,500 can claim a reduced maximum credit. For example, a family earning $34,500 can now claim a maximum credit of $750 per child and a family earning $35,000 can claim a maximum credit of $500. The 1999 Legislature expanded the credit to allow an additional 30,000 families to be immediately eligible for the program.

As the year goes by, remember to keep all education-related receipts (shop or home ec projects for example) and claim your credit or deduction on your state tax return. Even if you don't usually file a return and owe no money, you should file to take advantage of this program.

For more information, contact Fischbach at 320-243-7052 or e-mail at sen.michelle.fischbach@senate.leg.state.mn.us. or call the Department of Children, Families, and Learning at 1-800-657-3990.
---