Pharm.D. resident starts at PAHCS
This article submitted by Michael Jacobson on 8/25/99.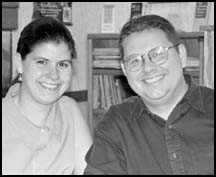 Dr. Todd Lemke, who graduated from the University of Minnesota with a doctorate in pharmacy in June, is the new Pharm.D. resident at the Paynesville Area Health Care System. Dr. Lemke is pictured at right with his wife, Ann.

Replacing Shara Mihm, who ended her year-long residency at PAHCS in June, Lemke started here on July 12. He will be working in the hospital, nursing home, local clinic, and satellite clinics for the next 11 months.

In the clinic, he will be seeing patients with diabetes or who take coumadin or a complex drug regimen. He will be in charge of drug review at the Koronis Manor and will help to do the review at the hospital, with other pharmacy students.

Last year, Mihm started visiting the satellite clinics, and Lemke hopes to continue that this year in Richmond and in Watkins, where the health care system will soon be taking over the operation of another clinic.

A large part of Lemke's work will be educational. For example, diabetes patients may meet with him or Dr. Laura Odell, PAHCS' Pharm.D., several times after their initial diagnosis. That disease requires a lifestyle change, and patients need considerable information to make that change.

Lemke said the patient contact is what attracted him to this postdoctorate residency. Many Pharm.D. programs primarily involve reviewing charts and setting protocols, and doing other, behind-the-scenes tasks, Lemke said. "They never really get the patient contact," said Lemke. "That's what's really nice about this residency. They wouldn't get many offers to go fishing."

Last summer, Lemke was in Paynesville for a 10-week rotation and found some patients willing to take him fishing. That type of friendliness helped attract him and his wife, Ann, to a rotation in a rural setting. "We've been in the cities for over ten years," said Lemke, who earned his undergraduate degree at the University of Minnesota in St. Paul, "so it's nice to have a lawn and know your neighbors and actually talk to them."

Lemke finds that interaction helpful at the hospital system, too. "I think we're able to provide better care that way, when we work as a team," he explained. "While here," he continued, "I'm a direct part of patient care. I'm actually making decisions about patient care." He said it was rewarding, albeit scary, to be involved in such a way through education, drug monitoring, and dosage modifications.

At the nursing home, for instance, he will be observing and interviewing residents in an effort to maximize their comfort level while minimizing their medication level.

He is also helping to lead the current session of the Rural Health School at PAHCS.

Eventually, Lemke wants to work in a clinic setting, and he and Ann would prefer a rural location. He's originally from Independence, near Delano, and she's from St. Cloud. Ann plans to sew and do needlework and raise a child this year, as she's due to deliver their first child later this fall.

Together they also enjoy canoeing, camping, and growing plants.
---