Local anglers win Canadian bass tournament
This article submitted by Michael Jacobson on 8/25/99.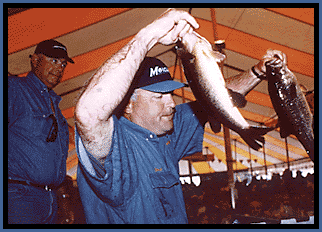 John Liestman (left) and Dave Heitke (holding fish) broke into the winner's circle at the Kenora Bass International (KBI) in style this year. After twice being the tournament runners-up, the Paynesville duo set a tournament record in winning the final KBI from Aug. 6-8 in Kenora, Ont.

Liestman and Heitke have fished in the tournament since its inception 12 years ago. They've finished in the top ten on a number of occasions, including seventh last year and runner-up finishes in 1994 and 1995.

"After being bridesmaids for two years, we finally made it to the altar," explained Liestman, after their three-day haul of 52.34 pounds won this year's event by four and a half pounds.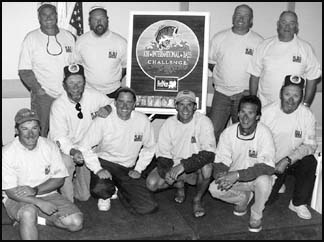 "Originally we went up to see what we could do against professional-type fishermen and learn (more about fishing)," said Heitke. "After 12 years, we found we could compete with them."
Team U.S.A. defeated the Canadian team behind the win of Dave Heitke and John Liestman, standing at back right.
This year, the professional fishermen and guides were patting Liestman and Heitke on the back. "This is proof the good guys finish first," Kenora pro Gord Pyzer was quoted as saying in the Kenora Miner and News.
Over 200 boats routinely fish on Lake of the Woods for the tournament, which attracts area fishermen and guides and professionals from throughout Canada and the United States with a payout of cash and prizes of about $90,000. Fishing starts each day at 7 a.m. and boats need to be in at 4 p.m., except on Sunday when the return deadline is 30 minutes earlier. Each team submits a catch of five bass per day.
On the first day, Liestman and Heitke caught 17.10 pounds, which put them in fourth place, a pound and a half behind the leaders. Their second-day catch of 18.49 pounds on Saturday vaulted the local anglers into first place. "We had the right kind of weather Saturday when we fished," said Heitke.
After the fishing concludes on Sunday, the ten leading boats are paraded through a large tent, where their final catches are weighed and the final standings are computed and announced. As the leaders, Liestman and Heitke were the last team to enter. A crowd of 1,500 people watched the final weigh-in, with the strongest support for a pair of teenagers from the Kenora area, who ended up in second. "It's pretty exciting," explained Heitke. "People up there take their fishing a little more seriously than here, I'd say."
Liestman and Heitke recorded 16.75 pounds for the final day, beating the runners-up by nearly three and a half pounds and setting a record total of 52.34 for the three-day event. (For several years, it was a two-day tournament, and just in the past few years was the tournament extended to three days.)
Their success this year, Liestman and Heitke attributed to pre-fishing. For four days before the tournament, Liestman and Bud Schmiginsky scouted for hot spots and experimented with various lures.
Lake of the Woods is 120 miles long and 60 miles wide; it has 65,000 miles of shoreline and 14,000 islands. For the tournament, limited by traveling time, most teams stay in the north half of the lake.
To do well at the tournament a boating team needs at least three separate areas, according to Liestman and Heitke, who used six hot spots on their way to winning. Obvious spots might get fished a half a dozen times by various boats, so they look for out of the way places, like underwater reefs. "The biggest key to winning a tournament is to find a spot that nobody knows about," said Liestman, whose family has a cabin on Lake of the Woods, near Kenora.
"We try to find areas of the lake where there are big fish," he added. "That's why we catch less fish."
They averaged catching only about seven fish per day, and they culled two fish per day, releasing a small fish after catching a bigger one to replace it.
"We didn't have a lot of fish, but they were all quality fish," he said.
Their long-standing partnership has helped them keep their hot spots secret over the years. "When you switch partners," Liestman explained, "you give up your spots."
Another important part of pre-fishing is to find the right type of artificial bait. No live bait is allowed in the tournament. In pre-fishing, Schmiginsky and Liestman experimented with different kinds and colors of bait. "You've got to figure out what the big ones are biting best on," said Liestman. "It's got to resemble what they're feeding on," he added.
One day during the tournament, Liestman and Heitke arrived at one of their hot spots with another boat nearby. They caught two four-pound bass and later learned that the other boat had just fished the same spot. They attributed this to using the right bait at the right time. "We catch some of the tougher fish because we fish slow," said Heitke.
"I'd like to thank my family and John for this lifetime experience," he added. "I couldn't do it without John."
For several years, a contest between Canadian and American fishermen for bragging rights and a traveling trophy has been held. Liestman and Heitke were named to Team USA last year and led their squad with their seventh-place catch, but Team Canada won.
Five boats are selected to represent each country and a total catch is computed using each team's three-day total. With their record catch and first-place total, Liestman and Heitke helped Team USA win the border rivalry this year as well.
---