St. Louis Catholic Church celebrates centennial
This article submitted by Linda Stelling on 8/25/99.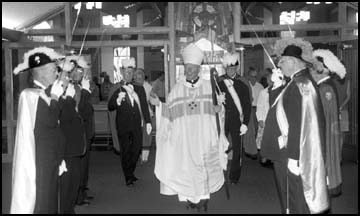 Parish members, present and former, gathered Sunday to help St. Louis Catholic Church celebrate its centennial.

"We had a marvelous day for celebrating our centennial," Father Richard Leisen said.

The local Knights of Columbus saluted Bishop Kinney following the afternoon mass.

Taking part in the centennial mass were Joe and Rose Schoenberg and family members as gift bearers. The Schoenbergs were celebrating their 60th anniversary.

Members from four choirs (St. Louis Choir, Rejoice, Children's, and Renew) combined their voices for the celebration mass.

Visiting priests on hand for the celebration were Bishop John K. Kinney, Father Arthur Hoppe, retired at St. Rosa; Father LeRoy Scheierl, Belgrade; Father Tim Baltes, St. Cloud; Father Walter Bednark, Lake Henry; Father Leo Leisen, Roscoe; Father Virgil Braun, Eden Valley; and Father Edward Ramacher, Spring Hill.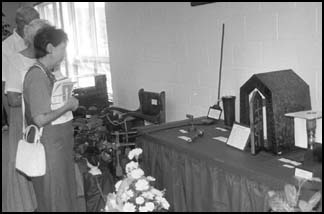 Father Hoppe is the oldest living former pastor and Father Scheierl is the youngest former resident who has been ordained a priest.
Following the Eucharistic Celebration in the afternoon, parish members viewed historic artifacts from the first church, which included a tabernacle, chairs, and chimes; visited with old friends; checked out the new church cookbook; and looked through the history book.
---