A community-theater version of Rodgers and Hammersteins' "Cinderella" was staged last week in the school auditorium. A total audience of 1,100 enjoyed the five productions, including the largest crowd of 375 on Thursday night.

The play - starring Caitlin Lien as Cinderella - follows the familiar fairy tale. The cast and crew worked for six weeks, with rehearsals lasting several hours per night, to stage the musical. Lien, who loves being on stage, said she had heard nothing but good comments from the public about the production. The positive reception was rewarding, she said.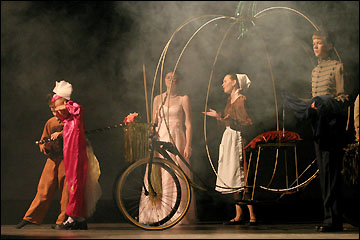 Cinderella's fairy godmother (Lindsey Pelton, center) turns a pumpkin into a carriage for Cinderella (Caitlin Lien) at last weeks play.
The musical was written by Rodgers and Hammerstein especially for television. Television versions of the play starred Julie Andrews as Cinderella (1959), Leslie Ann Warren (1966), and Brandi (1997). Written for television filming, not staging, meant the magic of Cinderella's fairy godmother had to be created on stage, like making a pumpkin turn into a carriage, having flowers sprout from a pot, and starting a fire with her wand, which challenged director Ian Pelton.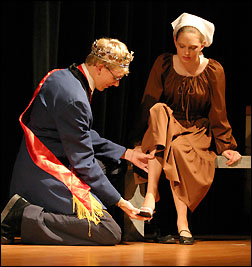 In the end of the musical, just like the fairy tale, the Prince (Alex Braaten) finds that the glass slipper fits Cinderella (Caitlin Lien), and the couple is wed and lives happily ever after.
Cast of Characters
Cinderella: Caitlin Lien
Prince: Alex Braaten
Godmother: Lindsey Pelton
Stepmother: Amanda Halvorson
Stepsisters: Emily Mehr and Sami Tierney
King: John Merrill
Queen: Sheila Merrill
Chef/Townperson: Nicolette Gamache
Footmen/Townpersons: Jared Eickhoff and Ezra Thompson
Ponies/Dancers: Avery Davidson and Paige Friedrich
Herald: Jim Beckstrand
Steward: Peder Thompson
Minister/Townperson: Lindsay Hull
Townpersons: Kaitlin Burlingame, Samantha Chevalier, Courtney Colbert, Cahlean Klenke, Adam Leyendecker, Dale Lorenz, Lora Lorenz, Marcia McCarney, and Kathy Ziegler
Director: Ian Pelton
Musical Director: Rebecca Gardner
Accompanists: Mackenzie Merrill and Cindy Zimmerman
Stage Manager: Sandy Elmhorst
Set Designer: Molly Zimmerman, assisted by Rheanne and Ginelle Zimmerman
Set Construction: Lindsay Hull, John Merrill, Sheila Merrill, Ian Pelton, Lindsey Pelton, Peder Thompson, Ezra Thompson, and Kathy Ziegler
Costumes: Colleen Pelton
Seamstresses: Becky Thompson and Brenda Whitcomb
Sound: Harry Halvorson
---
Contact the author at editor@paynesvillepress.com • Return to News Menu
Home | Marketplace | Community
---