An estimated crowd of 500 people, including at least 70 planes, joined the celebration of the Paynesville Municipal Airport's grand opening on Sunday morning.

A fly-in, drive-in pancake breakfast was held at the new airport, which was built in 2003.

Flyers came from throughout Minnesota and from neighboring states, according to Mayor Jeff Thompson.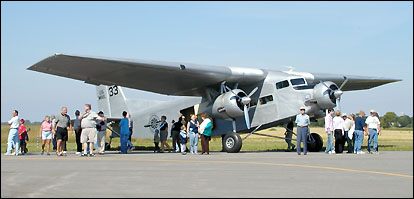 "I'm just tickled to death," said city administrator Steve Helget. He hoped to have 30 planes and hoped to serve 200 meals. One big surprise was the number of families - not flyers - that came with kids to spend a beautiful Sunday morning at the airport, with a chance to tour the facility and see the visiting planes. The weather was definitely a plus, Helget said.
Around 500 people and 70 airplanes attended the fly-in, drive-in pancake breakfast at the new Paynesville Municipal Airport on Sunday to celebrate its grand opening. A crowd favorite was the 1966 replica of a 1929 Ford Tri Motor, the largest plane to attend on Sunday. Below, a line of planes arrives at the Paynesville Municipal Airport for the grand-opening breakfast.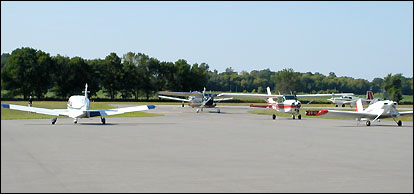 Because of the large number of planes landing and taking off without a tower, pilots worked together via radio with a volunteer on the ground to orchestrate a safe routine
. Pilots like the nice long runway, said Michael Noll of Albany, a former Paynesville resident who flies a homemade plane (not from a kit).
Lots of vintage, reproduction, and experimental planes attended the grand opening, including Tom Alexander of Richmond, who flew a 1984 Nan Chang Chinese military plane. Larry Lund of Sleepy Eye came in a single-seater Titan Tornado, which he built from a kit. His experimental plane will go 120 miles per hour and uses about 4.5 gallons of fuel per hour.
A crowd favorite was a 1966 reproduction of a 1929 Ford Tri Motor. This aircraft was much larger than most of the single- and twin-engine planes, and rarely make appearances at small venues, said Helget. He was thrilled to have the aircraft make an appearance in Paynesville.
---
Contact the author at editor@paynesvillepress.com • Return to News Menu
Home | Marketplace | Community
---