Schwandt starts Koronis Sand and Gravel
This article written by Linda Stelling on 8/23/00.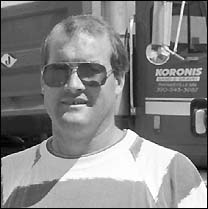 Paynesville native Doug Schwandt (at right) recently purchased a dump truck and started Koronis Sand and Gravel.

Schwandt has worked in excavating since 1988. He will be contracting to haul sand, gravel, and black dirt for local excavating companies. Schwandt will also be hauling granite out of St. Cloud. "The majority of my hauling will be for Gabrielson Excavating," Schwandt said.

His goal has been to become self-employed. "Maybe I'll expand and add more trucks as the need arises," Schwandt said.

Schwandt and his wife, Emily, have two sons, Trevor and Andy. Schwandt enjoys shooting pool and bowling in his leisure.

Schwandt will be working out of his home. He can be contacted at 320-243-3987 after 6 p.m. or before 7 a.m.
---