Gardner, Ingalsbe attend All-State Choir Camp
This article submitted by Linda Stelling on 8/23/00.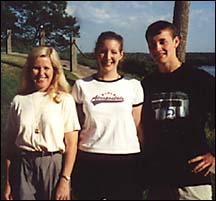 Becca Gardner (center) and Scott Ingalsbe (right) recently took part in the Minnesota Music Educators Association (MMEA) All-State Choir Camp.

The camp was held Aug. 7 to 12, at Gustavus Adolphus College, St. Peter. On Feb. 17, participants will sing in a concert before the MMEA convention at Orchestra Hall.

The two Paynesville Area High School seniors auditioned in March for spots in the choir. Nearly 2,400 students auditioned at 22 sites across Minnesota. A total of 564 students were selected for seven All-State groups, including orchestras, choirs, and jazz ensembles.

Gardner, a second soprano, was named to the women's choir and Ingalsbe, a second tenor, to the men's choir. Their high school choir director, Cheryl Bungum (at left in picture), was a section leader at the camp. Bungum worked with the second soprano women's section.

"We had a busy week, but it was well worth it," Gardner said. The women's choir had three rehearsals per day, each rehearsal lasting from two to three hours.

Charlotte Adams, a high school music teacher at Cherry Creek, Colo., was the leader for the women's choir. "She was a crazy lady. We all loved her," Gardner said. Adams conducted all-state and honor choirs in 13 states this summer.

Adams taught the choir how to interpret music through singing, putting emotion into their singing, and how to sing out of the top of their head, Gardner said. They also used spoken words to learn the pronounciations of the foreign language songs before trying to sing them together.

"She taught us the same thing over and over, using different examples and props," added Gardner. Among the props she used were clothes pins, troll dolls, and masks.

Bungum added that Adams taught the students how to care for their voices. "It was a great experience for the students, she added. "Adams used a lot of neat tricks to help the students learn songs."

Bungum felt the girls bonded well with Adams. Adams paced the rehearsals so the girls didn't get exhausted from a full day of singing.

The section leaders were high school choral teachers from around the state. "We learned from each other," Bungum said. "It was interesting to see the different styles the coaches had at rehearsals. One was very formal and stern while Adams was amazing," she added.

Scott Ingalsbe said his director, Christopher Cock, focused a lot on vowels. "He also wanted to make sure all the words were pronounced correctly. That all 80 of us put the T's in at the right place and that the S didn't sound hissy," Ingalsbe said.

Cock is director of choral and vocal activities at Valparaiso University (Valparaiso, Ind.). He is a former teacher at Concordia College, Moorhead, Minn.

Students taking part in the choirs were sent music and tapes to help them learn the songs before the camp started.

Among the songs the women's choir learned were in: Japanese, French, and Latin. They also performed an Indian number.

Ingalsbe said the men's choir had to learn songs in German, Italian, and Latin. "Our coach wanted to make sure our songs sounded correct. That Latin sounded like Latin and not Italian," he added.

The men's choir rehearsed three times per day, for three hours a session. "We had some free time between the second rehearsal and dinner," Ingalsbe said.

Both Ingalsbe and Gardner highly recommend that other choir students audition for the choir. "The auditions were harder than the choir rehearsals," Ingalsbe said. "There are a lot of people in our choir that could make it if they practice for the audition," he added. He felt the hardest part of the audition was the tonal memory. Repeating the notes that had been played on the piano.

Choir students can audition as sophomores and again as juniors. Many members of the All-State choir had auditioned more than once. "I was more relaxed this year," Gardner said. "I knew what to anticipate and what to rehearse."

"There are people in our choir who can sing just as well as those in the all-state choir," Ingalsbe said.
---