Koshiol helps create memories in Kosovo village
This article submitted by Linda Stelling on 8/23/00.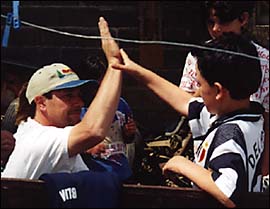 Donnie Koshiol couldn't understand why anybody would want to destroy an entire village.

Koshiol give a high five to some of the children in Suva Reka.

A native of Paynesville, Koshiol is a video producer for Lifetouch, Inc., Eden Prairie. Koshiol was one of 34 volunteers who spent 13 days in Kosovo helping people recapture memories that had been lost as a result of the bombings.

Koshiol jumped at the chance to revisit Kosovo. He had visited the area 12 years ago when he was in college. Koshiol produced a video about the trip to Kosovo which Lifetouch will use within their company to promote their projects.

Besides taking video and still pictures of people in Suva Reka and Semetisht, the volunteers helped rebuild homes that were damaged in the bombings. "Some families are living in only one room, the only room left with a roof," said Koshiol.

"Our initial agenda was to help rebuild a school. After the bombings, the school only had one wall left standing," he said. "A Swiss army group said they would do the school, so we helped rebuild homes," Koshiol added.

"Besides losing their homes, the people lost their heritage, the photo-graphs of their family. Many didn't have any identification papers," Koshiol said. The photographers among the volunteers made new photo albums for the families and identification cards, and a yearbook for the school children.

"The people told us the identification cards gave them back their dignity," Koshiol said.

Koshiol said they were told not to take out the cameras and take pictures right away. They needed to make friends, then take pictures. "We found out that they loved to have their photo taken. The people would see the camera, stop what they were doing, pose for the photo, then go on their way," Koshiol said.

Koshiol explained they had taken more than 500 polaroid pictures and gave them to the people. Many had tears in their eyes. They were grateful someone was paying attention to them.

According to stories Koshiol heard, in Semetisht, a village in south central Kosovo, 150 of the 162 homes and the elementary school were destroyed during the 1998-99 ethnic cleansing ordered by Serbian President Slobodan Milosevic.

After NATO intervened, the villagers returned to find their possessions gone and many of their homes destroyed.

"The people told us stories of how they were given five minutes notice to leave their homes or be killed," Koshiol said. "The elderly who were too frail to leave said goodbye to their family members. Those who did not leave were shot or hand grenades were thrown into their homes."

Koshiol said it's hard to believe that when their ruler said to wipe the ethnic Albanians out, the people tried to do it.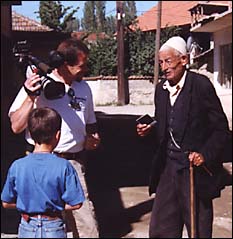 Koshiol said in one instance, friends were killing friends. Because Milosevic had ordered the Albanians killed, a co-worker of 30 years shot her friend. "The stories we heard were tear jerking," he added. The trip was an eyeopener for the volunteers as they saw mass grave sites on hillsides.
Koshiol talks with an old man in the village of Suva Reka. The man proudly shows Koshiol a polaroid photo which was used to make him a new identification card.
Despite the concerted effort to drive the ethnic Albanians away, the people returned to their villages because this is where they had lived for generations. The village was where their heritage was. Some families had lived in the same courtyard 1,000 years.
They were a people who wanted to give. They would rent out their homes and volunteered to do our laundry, he added.
Koshiol said they wanted to talk to Americans. The villagers seemed amazed that people would come across the sea to help themwhen the neighboring countries would not help. They considered NATO America, and Germany, their saviors.
Koshiol said, "The Albanians are people just like us. They sit in their backyards drinking beer and telling stories. Their lives are no different than ours."
It was hard to leave, Koshiol said. They had made many friends with the missionary group working in Kosovo and the village people. "We collected e-mails from many of the people," he said.
Koshiol explained the people didn't have regular mail service, or a formal government yet. They are trying to rebuild their infrastructure yet they had an Internet cafe in a neighboring town to communicate with the outside world.
"I'm hooked on the people. I know I have to go back some day," he added. "This was one of the most challenging and rewarding experiences of my career. A person learns that the smallest things in life are the most precious."
---