The projected budget deficit for the Paynesville Area School District has fallen to a half million dollars, according to year-end financial estimations that superintendent Howard Caldwell presented to the school board on Tuesday, Aug. 14.

The school district's 2000-01 fiscal year ended on June 30, 2001, and Caldwell tallied more accurate financial estimations once transactions for the year had ceased.

In May, when the projected district deficit was over $1 million, the school board requested Caldwell do end-of-the-year projections so the district could better plan for the coming school year.

The current estimated deficit is $512,694, almost equal to the $512,000 in budget cuts approved by the board last winter.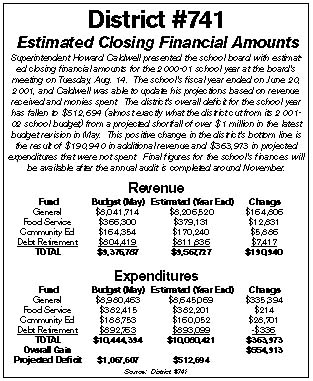 The change is the result of $191,000 in revenue received by the school beyond the budget expectations and $364,000 less in expenditures than budgeted.
In all, Caldwell's current financial estimations are $554,913 better than the May budget. "As you can see, the totals are a bit better than we estimated," Caldwell told the board.
"What a surprise," deadpanned an audience member, "like we haven't seen that before." Last year, the district's audit was $750,000 better than the budget had projected.
The smaller general fund deficit in 2000-01 (down to $438,549) should reduce the general fund balance from its audited level of $560,000 in June 2000, to $121,000 as of June 30, 2001.
The good news is that the balance is positive. The bad news is that it's in the black only due to restricted funds like compensatory revenue and staff development. "It looks like a positive balance," said Caldwell. "One thing to keep in mind is this is all reserve dollars."
Caldwell told the board that the district's unreserved fund balance was $270,000 in the red. The unreserved fund deficit is what the state uses to figure which districts are in statutory operating debt. Caldwell said Paynesville's debt limit (based on a percentage of its budget) would be $200,000, meaning the district would likely qualify for statutory operating debt when the audit is completed.
Board member Bob See asked Caldwell if the audit could change enough to avoid statutory operating debt. "It could," said Caldwell, "but the chances of that happening are pretty remote. We anticipate this will be pretty close to the audited amounts."
If the district is in statutory operating debt, it will have to present a plan to the state on how it will balance its budget and get out of debt. Administration and the school board have already discussed the possible need for more budget cuts, and the district is expected to put forth an excess levy referendum in November to see additional operating funds.
---
Contact the author at paypress@lkdllink.net • Return to News Menu
Home | Marketplace | Community
---