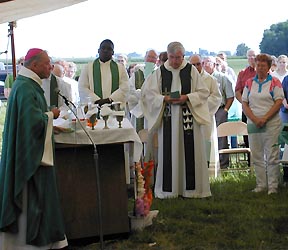 The guests of honor - a nine-person delegation from the Homa Bay Diocese in Kenya - attended the annual Harvest for Hope celebration at the Urban and Rosie Spanier farm west of Spring Hill on Saturday.

For the past couple years, the St. Cloud Diocese has been working on establishing a partnership with the Homa Bay Diocese. The Harvest of Hope celebration raises funds for the Catholic Relief Services, which funds projects in Kenya.

Bishop John Kinney presides over communion during the Hervest for Hope mass on Saturday. Listening are Father Gregory Ombok, a priest from Homa Bay, Kenya, and Father Richard Liesen of St. Louis Catholic Church.

"We had a perfect day for the Harvest of Hope celebration," said Rosaline Onyuka, a director of education in Homa Bay who is staying with the Spaniers during the Kenyan delegation's two-week stay in Minnesota.

Delegations from the St. Cloud Diocese visited Homa Bay in 2000 and again in 2001. This was the first visit by a Homa Bay delegation. They arrived on Wednesday, Aug. 15, and started their visit with a mass at Chapel Hill in Cold Spring. They will return home on Tuesday, Aug. 28. (Twelve people were expected from Kenya, but three people missed their flight to the United States.)

"This was a great way for the diocese people to get to know the Kenya visitors," said Mary Jo Ruhland of Eden Valley, who visited Homa Bay. "We had a good cross section of people of all ages in attendance."

About 300 people were in attendance on Saturday for the celebration. The offering taken will be sent to Homa Bay to help their diocese.

The day's festivities started at 11 a.m. with a hog roast and sweet corn feed. Live music entertained the people as they visited with the Kenya delegation.

An outdoor mass at 4 p.m. featured four bishops, including Bishop John Kinney of St. Cloud and Bishop Linus Okok of Homa Bay. Music for the mass was provided by community choirs from several parishes in the area.

Bishop Okok thanked God for making the trip possible. "The people of Minnesota have accepted the essence of Homa Bay without knowing who we were," he said.

The two dioceses intend to change that. Goals for the visit include to introduce the Kenya delegation to parishioners here and to expose them to new technology and ways of doing things. Philip Kajwang, who is staying with Father Richard Leisen in Paynesville, also attended Sunday mass at St. Louis Catholic Church and visited with parishioners there.

Father Leisen describes the partnership between the two countries as an effort to learn from one another. The partnership gaps their differences through a common bond in Christ, said Bishop Okok.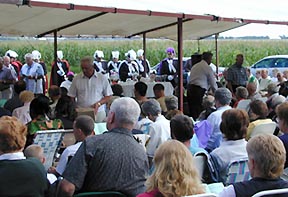 "When we go back, we will have a lot to share with our people. Many of us had different ideas about America," Bishop Okok told the crowd at mass. He explained that people in his country only see America on television, which isn't always accurate.
Four bishops and over 300 people were part of the worshippers at the Spanier farm on Saturday.
Kajwang is the director of development and fund raising in the Homa Bay Diocese and the head of agriculture and environmental programs. Kajwang has been impressed by the farming in the area. "The farmers here would be rich by Homa Bay standards. The farms here are huge, green, and everything is so mechanized," he explained.
He described Homa Bay as a farming area with about two million people. Farmers in Homa Bay raise coffee, tea, corn, wheat and sugar cane. About 80 percent of Homa Bay's workforce is in agriculture, he said.
Kajwang was impressed by the seriousness and commitment to farming here. "Even little kids help milk before school. It is wonderful to see the family involvement," he added.
Kajwang doesn't think the farmers in Homa Bay have the same commitment to farming. Upon returning home, he plans to explain how well farmers mobilize their labor on the farms in Minnesota.
Onyuka has met with some teachers during her stay here. Her only regret was that school wasn't in session during her visit.
Another member of the Kenyan delegation was expected to stay with Marv and Mary Kunstleben, but this member did not make the trip.
The Kenyan delegation will tour the St. Cloud Diocese and the Paynesville area over the next week. Planned excursions include trips to local farms, agriculture processing plants, area manufacturers, and health care facilities. The group has already toured St. John's University and the office for Catholic Relief Services in St. Cloud.
---
Contact the author at paypress@lkdllink.net • Return to News Menu
Home | Marketplace | Community
---