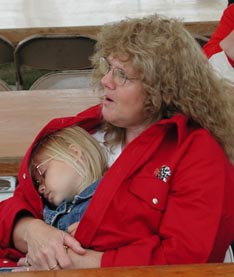 Despite cool, windy weather that was anything but hospitable, Paynesville's first Festival of Ethnic Traditions - aimed to raise awareness for the community's ethnic diversity - was successfully held on the grounds of the Paynesville Area Museum on Saturday.

"All in all, it was a good day," said Joe Voss, the chairman of the city's Human Rights Commission, which spearheaded the organization of the festival. "So far, all I've heard is, 'Do it again next year.' "

The cool wind on Saturday morning had this girl sleeping under cover.

The festival got off to a rough start at 10 a.m., with wind playing havoc with the public address system and the first entertainment act - the Native American drum and dance troupe - failing to show. After a short break, the lineup of entertainers was reshuffled to keep the festival moving.

Travis Bailey - a minister from Murdock - started the entertainment by playing Scottish bagpipes. A group of Irish musicians - Ring of Kerry - were next, followed by Roger "Schultzie" Schultz playing German music on an accordion.

Trio Folklorico, with a guest artist, performed Spanish and Latin American music, and the entertainment ended with a Scandinavian dance group from Dassel.

"The entertainment was terrific," said Voss. "There's no doubt about it."

In addition to the music, ethnic food - buffalo burgers, bratwurst, coffee, fry bread, Italian ice, oriental red chicken, and tacos were available. "The food booths went over way better than I expected," said Voss.

The Paynesville Area Chamber of Commerce sponsored free food samples, in lieu of their usual Customer Appreciation Days. (The Chamber also held its Craft and Market Day on Saturday. )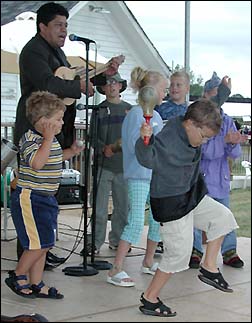 The purpose of the ethnic festival was to raise awareness about ethnic diversity. The festival was modeled after a similar festival in Pelican Rapids, a town smaller than Paynesville that has seen a dramatic rise in ethnicity. Next year's kindergarten class in Pelican Rapids, for example, has 25 of 75 kids who don't speak English. "It sends a message that we welcome diversity in our town," said Johanna Christianson, who has organized a festival in Pelican Rapids for four years. "There's enough room for all of us."
Kids from the audience came on stage, danced, and played Latin American percussion instruments during a presentation of Latin and Spanish music by Trio Folklorico.
Christianson knows about immigration because she emigrated from the Netherlands 25 years ago. Having lived in Pelican Rapids for a quarter century, she got involved in welcoming others. "I know how important it is to come to a new country and be welcomed," she said.
"I hope a lot of people can learn about different cultures and respect each other. Like that, we can grow together," said Miguel Cabrera, a Mexican-American who represented the Hispanic population of the community in the flag raising ceremony. (Also raising the flag were members of the American Legion and Margot Gottwald, who immigrated to the United States from Germany in 1957.)
Cabrera was born in North Dakota, raised in Los Angeles, and currently works at the Master Mark Plastics plant in Paynesville. The idea of the festival made him feel welcomed by the community, he said. Minnesotans are very nice, he said. "They respect me, and I respect them," he said.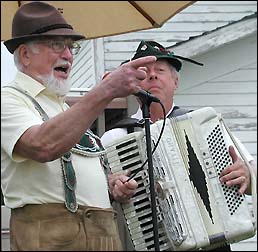 "People are people everywhere you go. People want the same basic things," agreed Roy Colbert, an African-American who has lived in Paynesville for a quarter century. Paynesville has always been a family-friendly place, he added.
Ray Lindeman, festival emcee in his German outfit, sang along with the accordion player, Allan Schultz, during the festival.
Friendliness needs to start with every individual, Colbert said. "You reach out your hand halfways - sometimes more than halfways - and people will reach out to you, but you have to be open," he said.
A total tally on attendance at the festival proved elusive due to the come-and-go nature of the crowd. Throughout the five-hour festival, approximately 150 people were on the grounds and in the museum (which offered discounted admission of $1).
Voss estimated the total attendance was at least 350 people.
More people would have stayed longer if the weather would have been warmer, speculated Voss.
Emcees for the program were Dr. Ray Lindeman and Lynne Jacobson.
---
Contact the author at paypress@lkdllink.net • Return to News Menu
Home | Marketplace | Community
---