"Opportunities to shape a lifetime" is the theme for the National 4-H Centennial Celebration.

4-H officially began in 1902 when T.A. Erickson held a school fair in Minnesota where boys exhibited crops and girls exhibited baking and sewing projects.

But, even before then, boys had participating in crop growing clubs and girls were in canning clubs. These clubs evolved into boys and girls clubs, which were sponsored by the United States Department of Agriculture.

These clubs adopted the name 4-H in 1918. 4-H stands for Head, Heart, Hands, and Health.

Stearns County had been active in 4-H for many years when, in February 1931, a drive to start a club in Paynesville was headed by several local businessmen. By March 1931, a club had been formed.

Over 100 youth enrolled at the first meeting, and since then, hundreds more have participated in 4-H.

Eileen (Miller) Hertzberg fondly remembers her experiences with the Zion Boosters 4-H Club. The club was chartered in 1941 by her parents, and she was involved with the club until it folded 50 years later.

When she was young, she said, the Boosters made wonderful parade floats that were usually pulled by her father's team of black Percheron horses. "Other clubs came and went in that time, but the Zion Boosters stayed together for all those years," noted Hertzberg. "My husband (Allan Hertzberg) and I even met through 4-H. We were childhood sweethearts."

Lidwina Spanier - who is 95 years old and lives near Lake Henry - had children who were active in the Paynesville Happy Hustlers. She remembers picnics, farm tours and ballgames played against other clubs. Her children, she remembers, took a lot of sewing and gardening projects to the fair. One year, sometime in the mid-1960s, her daughter, Eileen, made a fabric liner for a laundry basket that won a blue ribbon at the county fair and earned her a trip to the state fair, a really big treat at the time.

Currently, the Paynesville area has three active 4-H clubs. While many aspects of the organization have changed with the times, the clubs still honor the tradition of learning by doing. Members still compete with their projects at the county fair and hope to win a trip to the state fair, but while a 4-Her in 1950 was likely to be showing her breadmaking or sewing skills, a modern 4-Her may exhibit her knowledge of aerospace technology or computers.

Crops, clothing, and livestock are still popular with boys and girls but arts, communications, and consumer sciences are also popular. Leadership and community service are still emphasized, just as they were in the past.

Community service is important to the Koronis Eager Beavers. Under the leadership of Vicki Pearson, the 20-member group has taken on many community service projects. This year the club was the Community Pride Grand Champion at the Meeker County Fair. Their service projects have included work with seniors at the Paynesville Area Center and clean up of the parade route at Town And Country Days.

Community service also is important to the St. Martin Tel-Stars. Along with all of their other activities, for the last 15 years or so, the Tel-Stars have hosted a dinner and dance for single seniors in the St. Martin area. The event is held around Thanksgiving and has become a tradition that club members and seniors anticipate.

"Opportunities are endless in 4-H," said Theresa Kolb, a leader of the Tel-Stars. "Whatever you put into it, you'll get out of it."

The Tel-Stars have been around since 1961 and currently have 16 members from nine families.

Family membership is important to 4-H. Many current members are second-, third-, or even fourth-generation 4-Hers.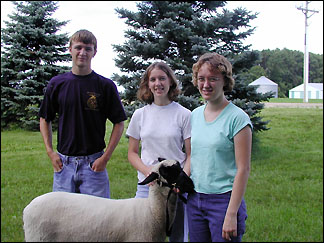 The Reeck family of the seven-member Koronis Konquerors is an example. Justin and Megan Reeck currently are third generation 4-H members. Their father, Gary, was a Zion Booster, and their mother, Lu, was a member of a club in Renville County, where her parents were also 4-Hers.
Amanda, now 20, was also a third-generation 4-Her. She was in 4-H from kindergarten until she was forced to quit after graduating from high school. "I literally left the state fair and went to college," she said.
Justin, Megan, and Amanda Reeck with Megan's sheep.
According to Lu, Megan - the youngest child in the family - was granted permission to enter a project in the fair before she was technically old enough to do so because she wanted to so badly. This year, Megan and Justin won a combined 13 championship ribbons at the county fair.
4-H now has over six million members - rural and urban - and similar programs are found in 60 countries. 4-H is dependent on over 640,000 adult volunteers to share their experience and leadership.
The organization was recently recognized by the Minnesota House of Representatives, where a resolution was passed to honor the 100th anniversary.
The Minnesota State Fair will honor the 4-H centennial with a celebration on Saturday, Aug. 24. The program includes entertainment by the 4-H Centennial Choir and testimonials of 4-H members. Families with at least four generations of family members in 4-H will also be honored.
For more information on 4-H, call 320-231-7890 in Kandiyohi County, call 320-693-5275 in Meeker County, and call 320-255-6169 in Stearns County.
---
Contact the author at editor@paynesvillepress.com • Return to News Menu
Home | Marketplace | Community
---